I got this great question from an evangelistic wife and mother who wanted some advice on doing the right thing. What do you think of my answer, Christians? Atheists, what say you?
I also posted her follow-up email (with her permission).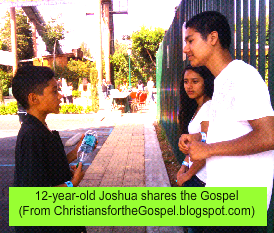 My son is 12 years old and he is following the commandment of the Bible in Mark 16:15 [: Go into all the world and preach the good news to all creation.] He does one to one conversations  on a weekly basis but would also like to do open air preaching.
My husband  (who is not a Christian) says that if he does [preach] the [Government] will take him from us. I know your kids open air preach. Have you ever had any problems with [Government agencies]?
My answer: We've had no problems at all. This is still a free country. They can't arrest you for that. (Well they can, but it would be unlawful.) If they do ever arrest your son there are plenty of free lawyer groups.
Out of respect for your husband, I would counsel you to not allow your son to open air preach…at this time. You want to be a blessing to your unbelieving husband. Thank God he allows him to witness about Christ at all. If you submit to him as to the Lord you may win him over without a Word, and that's the most important thing.
Here is her reply back:
Good morning Pastor Steve!
God works in marvelous ways. A while back I asked you about open air preaching. My son, who is 12 wanted to do it, but my husband does not approve of it.  You recommended that we should listen to my husband. We did. My son has been doing one2ones and I have been video taping them for his blog ChristiansfortheGospel.blogspot.com and to show them to my husband.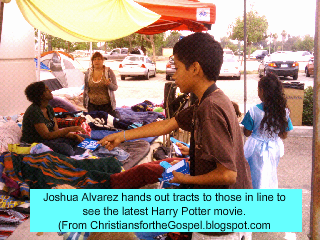 Well, yesterday, we uploaded a video clip to send to On The Box for their new segment Atheism is Stupid. Within the first two minutes, we got our first comment from an atheist. The funny thing is that he has had his blog for months and no one had left a comment, and now we upload this Atheism is Stupid clip and atheists are watching it. He has now found a way to attract atheists to watch his witnessing clips without even trying. And the most amazing thing is that my husband approves of it! He said "You keep getting those atheists, Joshua."
Here's Joshua's simple video: