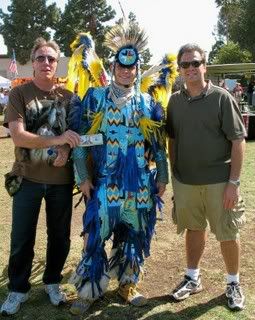 This Saturday we will be heading to El Camino College to share our faith in a gracious, gentle, and respectful way (like we always do), with the great American Indian Community.
The South Bay/Long Beach area, in which we live, has the largest native American population in the entire country.
This is a very difficult people group to reach because Christianity, in their eyes, has created nothing but hardship and trouble for them. (After our last Powwow visit, I pulled all my posts and videos from this blog. I'll write about that at another time.)  
Please pray that our message would be heard and understood.
Meet at Hope Chapel at noon, or meet at us at El Camino College at about 1:15PM.
***Calvary Chapel South Bay has a team going to the Thai New Year Festival in Hollywood on Sunday. If you'd like to join my friend, Tom Nance-Ulrich, then click for more info.
 Calling all Backyard Missionaries
 
> Come celebrate Palm Sunday with OTI (Outreach To Internationals) at
> the Thai New Year Festival in HOLLYWOOD! Sunday April 5.  We will have
> booth # 144 decorated with the theme of NEW LIFE, celebrating the
> start of  Spring and New Life in Christ.  We plan to do face painting,
> balloon twisting, singing worship and sharing the Gospel from 9AM to
> 7PM.  There will be about 100,000 people at this annual event.
> Hollywood Blvd between Normandie & Western is shut down and turn into
> an exciting mix of cultural, community, commercial and food booths.
> The majority of Thai people are Buddhists, yet folks from many other
> cultures, ethnic and religious groups attend this celebration.
>
> There will be lots of opportunities to use your God-given gifts and
> talents. We need face painters, balloon artists, musicians, tract
> distributors, evangelists, people who love Jesus Christ and want
> others to do so also.
>
> A small group is going early in the morning to set up the booth.  Al &
> Maya Thomas will lead a group from CCSB to the event via the LA METRO.
> The group will gather at 12 noon on the north-west corner of Knox &
> Vermont, across Vermont Ave from the CCSB  Bookstore.  They will then
> carpool to the LA Metro line at Inglewood and Marine.  At the LA METRO
> station each person will buy a $5 all-day pass.  They will travel on
> the Green line, to the Blue Line (toward downtown) to the Red Line
> (toward Hollywood).  Exit at Hollywood Blvd and Western station.  Our
> booth#144 will be to the left toward Normandie, in front of the
> Psychic Tarot Card shop and American Tire Depot.
>
> If you want to drive, free parking is provided at Kaiser Hospital at
> 1526 N. Edgemont St LA 90027. Take 110 North to 101 North. Exit
> Vermont, Right on Vermont, Left on Sunset, Right on Edgewater.  A
> shuttle bus takes you to the festival site.  Last year we experience a
> long wait for this shuttle bus.  That?s why we recommend taking the LA
> METRO, beside the METRO ride is fun, more chances to witness to fellow
> passengers too.  There is also LIMITED parking for $5 at 5955
> Hollywood Blvd. Take 110 to 101 exit Hollywood turn left.
>
> Any time that you can contribute to this effort would be  appreciated.  The event goes from 9AM to 7PM.
>
> Any questions call Tom Nance-Ulrich at 310-619-1588