This is a very frightening and funny 3 1/2 minutes….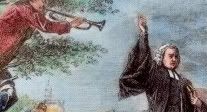 Watch what happens when "Righteous Richard" Chavarria and myself preach to the thousands waiting in the grandstands for the parade to start  at the 2010 Tournament of Roses. (Read about it here.) 
The crowd's animosity is roused because the Gospel is being preached; if we were  doing a stand-up routine or talking about sports, I'm sure they would have welcomed us. But just mention The Name, and it's a whole 'nother matter.
The Rose of Sharon was definitely a thorn in the side at this Tournament.

Camera, editing: Peter Johnson