This man is a sold out evangelist who graduated from my class about a year ago. On Monday he was arrested in a Communist country, whereabouts unknown.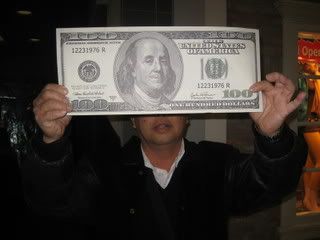 As a covert missionary to this Communist country he has been evangelizing for many, many years, but when he understood the teaching of "Hell's Best Kept Secret," he took off like a rocket.
He has since been released and wants to come back to the States. Please pray for him.
A few months ago he joined us on a local evangelistic excursion. He told me about the time he was stopped by a Security guard and was commanded to leave the premises for handing out tracts: "I then asked to speak to the guard's Supervisor. The Supervisor told me that I couldn't do this, so I asked to speak to a police officer. When he told me I couldn't evangelize, I asked to speak to his Watch Commander. Finally, when the Watch Commander told me I still couldn't do this, I left the premises."
"Where did you learn all this?" I asked.
"From you. From your class."
Good student.