Because the Little Saigon Tet Parade is in Orange County, a major conservative stronghold, many politicians tried to score points with the minority community. Our evangelism team was more interested in scoring points with the politicians—by handing them Gospel tracts. Our hope was that they'd read them, believe and repent, and make some decent policy changes that would affect our nearly bankrupt (spiritually, morally, fiscally) nation and state. You might say that this was a stimulus package that could actually work! (Read part 1 here.)
Loretta Sanchez, Congresswoman for California's 47th district was overjoyed to receive her tract.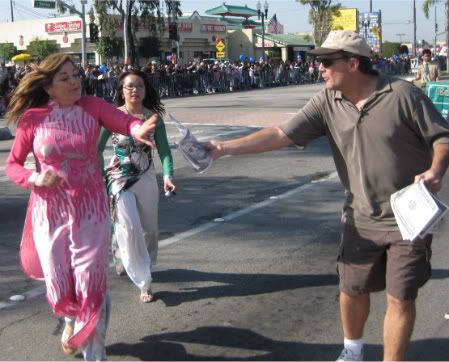 Let's hope this Blue Dog Democrat spends this hundred dollar bill a little more wisely….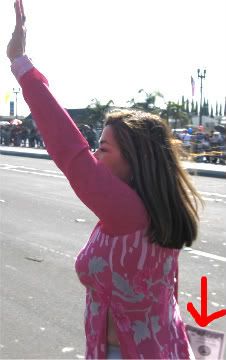 Ed Royce, one of the rare Republicans on the Left Coast, from the 40th Congressional district, took the money… and ran! Any campaign contribution is welcome in these tough economic times, especially if you're part of the GOP in SoCal.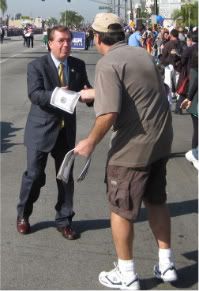 GO ED!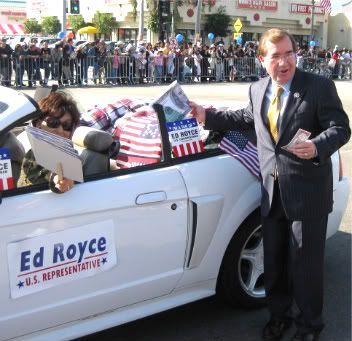 See more politicians grab the cash by reading the rest…
Steve Poizner, the current State Insurance Commissioner is running for Governor, hoping to clean up the Governator's mess. He was happy with his hundred dollar contribution.
State Senator Lou Correa (D-District 34).
State Assemblyman Van Tran, (R-District 68).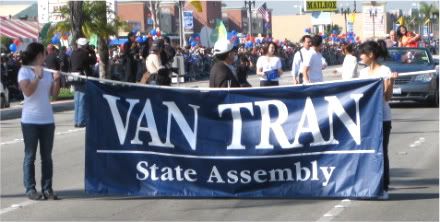 He seemed in a real hurry to hide the cash for some reason….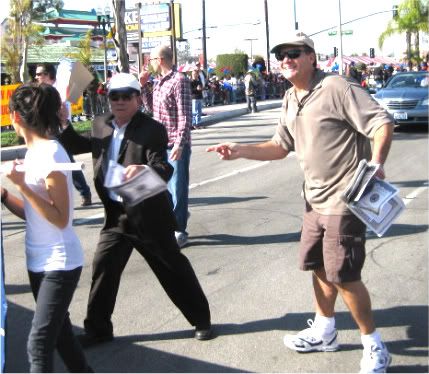 Wait! Here's an update: A commenter to this post says that he isn't Van Tran but an imposter! You decide. Here's Van Tran from his website: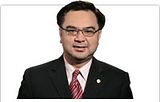 Is that him? Or a parade phony?

Below, I paid my back taxes to Ms. Steele.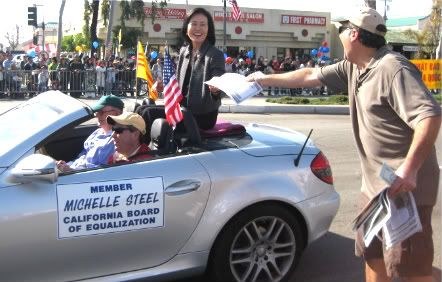 Even the Mayor of Westminster was delighted with the Gospel bucks!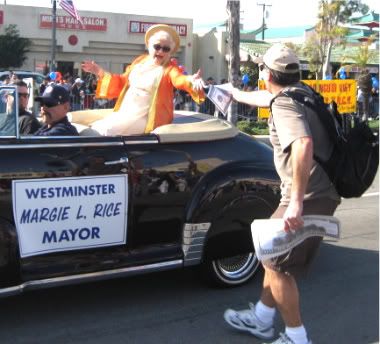 What's the point of all this? I have a fantasy: What if one or two of these people of influence got saved, I mean really saved, and started to rule with righteousness? What if they made decisions based on the will of God, not for political expediency? What if?
You may be thinking, Yeah, right, Steve. But do they really read those stupid $100 bills? Well, just take a look at this reaction from State Assemblyman Jose Solorio (D-69th District).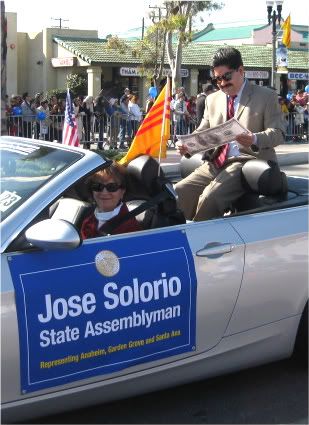 It all boils down to one question. The most important question anyone could ask:

Read part 1 about the controversy of gays marching
in this parade for the very first time by clicking here.