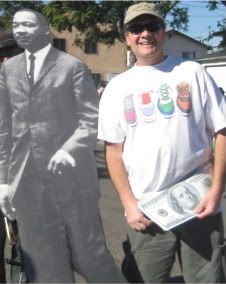 I HAVE A DREAM… that multitudes of Christians would gather to share their faith at the two parades we will be attending, and that multitudes would be saved as a result of the Gospel being preached.
This Saturday we will be going to the Martin Luther King Jr. Parade in Long Beach for the the 2nd time. If you'd like to join us for this friendly event, meet us at Hope Chapel at 8am to carpool. 
And Monday will be the 5th year in a row that we visit the Kingdom Day Parade in Los Angeles! To carpool, meet at Hope Chapel at 7:30am.
Last year, I had the opportunity to preach to Hare Krishnas as they twirled and whirled, and also to the gay contingent who actually called my Gospel tracts evil.
To top it all off, I ruined my witness by getting mustard all over my hallowed preaching shirt while eating a street hot dog. Read all these 2011 adventures by clicking here.
In 2010, I was caught on-camera by ABC television while running into the parade to give out my Gospel money tracts (see below from 1:06 to 1:16). We were then rained out. Read all about it here.
Here's a different perspective of the same incident:
In 2009, I was castigated by my Christian brethren for wearing a special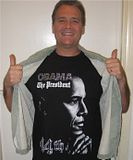 event appropriate T-shirt. (I won't be wearing it again, but will be bringing thousands of thousands of special event-appropriate Gospel tracts.) Nevertheless, I had a very good Biblical reason for donning this garb even though I had no intention of voting this way. Tony Miano joined us in this year and wore an entirely different shirt. Read this series, and the controversy by clicking here.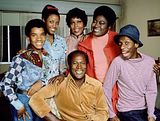 But when this all started in 2008, I never dreamed we would encounter such a great and friendly neighborhood as the one in the Crenshaw district. We even gave the dad of "Good Times" (remember that '70s show?), a million dollar bill Gospel tract! Dy-noooo-miiiiite! (Read that account here.)