The Orange County Register reported on the street performers who barely co-exist on Saturday afternoons at the Huntington Beach Pier. Here's a sample of what this paper thinks of the evangelists who preach there every week: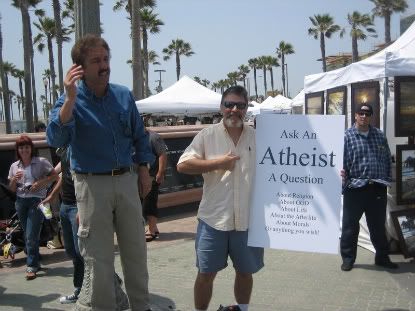 Lucky John Domingue, who hammers nails up his nose as part of his act, says the performers have worked out a system where they take turns to avoid having everyone going at once.
John said he tried to get Christian evangelist Ray Comfort to join the rotation, but to no avail.
"The performers aren't causing problems. We're organized," Domingue said. "The Christians set up directly in front of us."
Comfort, who co-heads a Christian evangelist ministry based in Bellflower called The Way of The Master, said he didn't participate in the rotation because of a disagreement about allotted time per performer.
The New Zealand native offers spectators money from 1:30 to 3:30 p.m. on almost every Saturday at the plaza if they answer a few questions. Comfort ends up yelling at them and calling them liars before he asks them to come to God.
"We get 50 people maybe, 100 people if someone is going to beat me up," said Comfort who uses in-your-face tactics. "But that hasn't happened in Huntington Beach." (Read the rest of the story and see the photos here.)
Read how Huntington Beach bicycle taxi drivers got their revenge here!