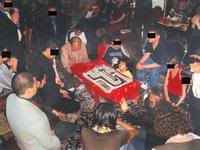 It is illegal in Iran to share Christianity with Muslims or preach the gospel in Farsi, the indigenous language of Iran. It is also illegal for a Muslim to reject Islam (apostasy). Therefore, Farsi-speaking, Iranian Muslim converts to Christianity must worship in illegal "underground" fellowships.
In a massive crackdown that began on Christmas Day, authorities arrested about 70 Farsi-speaking believers. Most are young converts from Islam. They are being interrogated and coerced. The arrests follow the denial of an appeal for a Muslim convert sentenced to death for leaving Islam.
Pastor Youcef Nadarkhani's death sentence is only being delayed to give intelligence agents more time to convince him to renounce Christ and return to Islam. His wife has been sentenced to life imprisonment. They have two small children.
Source: Assist News Service
Please Pray!
Ask God to protect the believers in Iran and that the attempted repression of the spread of Christianity by the Iranian regime would prove futile. Pray that those in leadership would be delivered from the powers of darkness and come to trust in Christ.
"The humble also shall increase their joy in the LORD, and the poor among men shall rejoice in the Holy One of Israel. For the terrible one is brought to nothing, the scornful one is consumed, and all who watch for iniquity are cut off-who make a man an offender by a word, and lay a snare for him who reproves in the gate, and turn aside the just by empty words." Isaiah 29:19-21
*****
The Voice of the Martyrs helps persecuted Christians around the world and assists Christians in Iran by providing Farsi Bibles and by supporting Christian satellite broadcasts. Another way this ministry helps is by making the plight of the persecuted known through the BE-A-VOICE Network.