PhotoBomb evangelism was a new technique developed at the Santa Monica Pier at the Ambassadors' Academy last summer. Simply smile when a tourist  takes a picture.
Then hand them a Gospel tract afterward. Smiles all around! (Read more about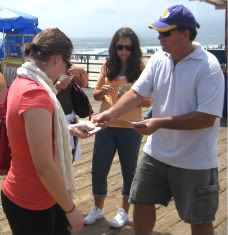 PhotoBomb Evangelism by clicking here.)
Join us at the end of Route 66 this Saturday for a great time at a destination that is full of tourists from around the world.
Meet at Hope Chapel at noon to carpool or show up at the Santa Monica Pier between 1-1:30pm. Look for the people with the Giant Money.
NEXT WEEK: Celebrate Chinese New Year with us at The Golden Dragon Parade!
And in just a few weeks… we enter our sixth year of teaching our evangelism class called "Sharing Your Faith Without Fear." Only this time, it's ten weeks long. And it's free!!!!! For more info, see the flier…