I debated about whether to post what happened to this poor brother, a man Christianity Today calls "The World's Most Missing Christian." Since I read of his account from ChinaAid though, I've been praying for him daily; maybe you will, too.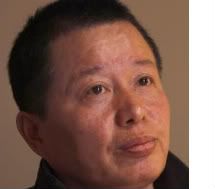 More than a year has already passed since Christian human rights lawyer Gao Zhisheng was last seen. On April 20, 2010, he disappeared once again into Chinese police custody. The Chinese government adamantly refuses to release any information about Gao, to disclose where he is being held, or even to say what his condition is. It even refuses to confirm to Gao's family members whether he is still alive.
Gao's wife and two children, whom ChinaAid helped to resettle in the United States, have been devastated both emotionally and spiritually. They cry out every day to have a word from or about their lost loved one, their devoted father and caring husband.
Following is an excerpt from a ChinaAid report posted on April 26, 2011, describing some of the horrific torture inflicted on Gao. [Warning – contains graphic details]

On April 19, 2011, officials from the Beijing headquarters of the Xinhua News Agency and the Propaganda Department of the Public Security Ministry's Political Department confirmed that one phase of Mr. Ai Weiwei's tax evasion case had come to an end.

A Public Security Ministry official with a conscience revealed that during the interrogation Ai Weiwei was subjected to torture in order to extract a confession. He said that the Ai case was being jointly handled by the Economic Investigation Corps and the Domestic Security Corps of the Beijing Municipal Public Security Bureau.

Fu Zhenghua, the chief of the Beijing Municipal Public Security Bureau, instructed those handling the case to show Ai Weiwei the video of Gao Zhisheng being tortured, including shots of electric batons being inserted into Gao's anus and his blood, semen, feces, and urine spurting out. Fu Zhenghua also issued an order saying: Whatever methods were used on Gao Zhisheng, use the same ones to make Ai Weiwei give in.

After several consecutive days of torture, Ai Weiwei was finally compelled to sign a statement of confession, admitting to tax evasion. (Read more: Tortured by Police, Artist Ai Weiwei Confesses After Seeing Video of Gao Zhisheng's Torture
Though this campaign for Gao's freedom has been a long one, we must not lose heart — for how else can Gao's wife and children continue to hold on to their hope? Please encourage more of your friends to sign the FreeGao petition. We are planning a new initiative once we have collected 200,000 signatures. 
We vow to not waver or rest until we see Gao fully restored to freedom. Let us unite together to make this happen.