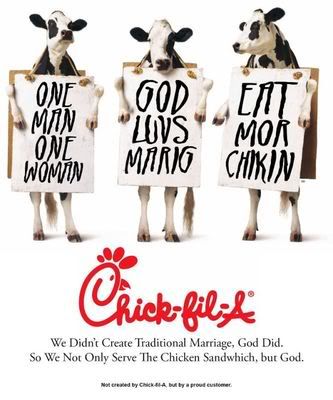 The great gay Kiss-In at Chick Fil-A flopped big time last Friday. According to the New York Post:
Tumbleweeds could have rolled through the Paramus Park Mall in New Jersey yesterday as a symbol for the lack of stamina in the national kissing campaign. From Georgia to California, protests drew yawns…. Even in Atlanta, the home of Chick-fil-A, only two dozen kissers showed up. And there was a similar lack of necking in Chicago, Philadelphia, Pittsburgh and San Francisco.
One man, in a tirade against the chicken fast food restaurant, was fired from his job as CFO when he posted this video of himself haranguing a very polite worker. (Read about it here.)
The L.A. Times reported on the Chick Fil-A  my family attends regularly, too. Sadly, some scoundrels defaced the building:
At the Torrance Chick-fil-A restaurant where vandals painted "Tastes like hate" on the side of the restaurant, the National Same-Sex Kiss Day was off to a slow start.

Denise Spencer, who visited the restaurant on Friday, said she was sad to see the vandalism and that it hurts the tolerance message that gay marriage proponents are pushing.

"The president of the company has the right to say what he feels, just like gays and lesbians do, but when you destroy someone's property … it only creates negativity," Spencer said.
While Chick Fil-A reported record sales on their Appreciation Day, and courteous customers waited patiently in long lines to support "One Man/One Woman" marriage and "Free Speech", the same did not appear to be the case with those preaching inclusive tolerance.
Watch how a quiet homeless man is harassed mercilessly for…just reading his Bible!
But here's where the rubber meets the road. As I was driving away from our local Chick Fil-A,  I saw my friend, Steve L., a frequent commenter to this blog, gently sharing the Gospel with some angry lesbians who were protesting on the corner. (He's the bearded man just left of the pole. I shot this while at a red light.) Below the 16 second video, read his account of what happened.
"It's always an honor to share the gospel, anytime – anyplace! This conversation was in front of Chick-fil-A on "Kiss-In Friday." The young lady was holding a sign supporting gay rights and wanted nothing to do with me until she found out that my speech was seasoned with grace. As we spoke, I could tell she was interested in what I had say concerning God's commandments that she had broken. Although she didn't make a commitment, she thanked me for being polite and said she enjoyed our time together! A seed has been planted and I would ask that you would pray for Joan. God willing, we'll see her on the other side!" —Steve L.
Even the Living Waters staff supported this great organization!