How do feel about Christians who present the message of Jesus a little creatively? What is your first reaction to someone proclaiming the Gospel in what you perceive to be an unseemly or undignified manner? Are you happy and excited or embarrassed and ashamed that they are a brother or sister?
There are many different ways to reach people for the Kingdom of God, ways that we may think are kooky, ineffective or weird, but, can advance the cause of Christ further than we ever expected. You may not do it that way, I may not do it that way, but if the Good News is proclaimed accurately, then, it doesn't matter what we think. We serve a creative God who uses creative people to get his saving agenda done.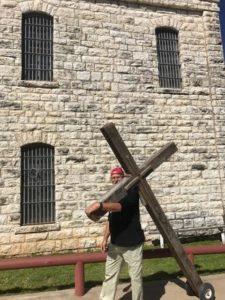 What do you think about the cross-walkers? Our fellowship hosted Steve Epp a year ago who's walking the cross throughout America. Why does he do it that way?
"I'm reaching out to the younger generation who've experienced drug abuse and home abuse," he says. "I took to the street because they are sure not coming to our churches. I tell them that God loves them and I love them. I want to show that living for Jesus is a life of surrender, and I'm trying to show them that by example." 
In 2015 Mitchell Manning carried a 12-foot cross from Florida to California as a way to represent his faith because "the cross is the whole point." In 2014 Arthur Hollands did it because "I just want to share that people are loved, and you can have peace in your heart." But the most famous living cross carrier of all is Arthur Blessit, who began his cross-walk in 1969 and still continues to this day. He has been in 324 countries and is in the Guinness Book of World Records for the "Longest Around-the-World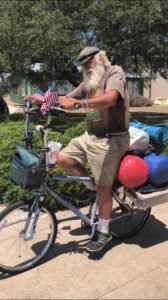 Ongoing Pilgrimage/Walk."
I met a man named Skipper a few weeks ago in Johnson City as he was biking around the country for Jesus. He was just leaving to pedal back to Sacramento, California, his home. 
What is your honest feeling about those guys? Do they bug you? Maybe just a little?
A man at the Starbucks in Marble Falls ran out to my daughter and handed her two homemade cardboard Gospel tracts with a section of the Bible cut out and glued inside each.
All these people were sharing Jesus differently than me, but I thank God they were doing something for Him.
"Do not stop him," Jesus said to his disciples when a man was performing an unauthorized miracle from a group not their own. "For no one who does a miracle in my name can in the next moment say anything bad about me, for whoever is not against us is for us." (Mark 9)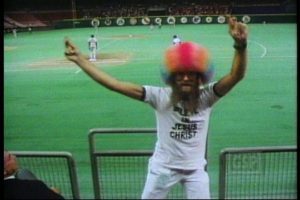 Perhaps you've heard about The Rainbow Man from the 70's who wore a fright wig and held up the Scripture John 3:16 on a placard at football games. Surely, you've seen ex-football star Tim Tebow painted bible verses in his eye black, or athletes pointing to heaven after they've scored a touchdown, or some even taking a knee in honor of God after scoring a point.
"Do not stop him," Jesus says.
All these expressions of faith, these spiritual advertisements, if you will, are meant for one purpose: to remind people that there is a God in Heaven. And He loves you.
In 1865, William Booth started the Salvation Army with just his wife at his side. They did things differently and were constantly ridiculed and jeered.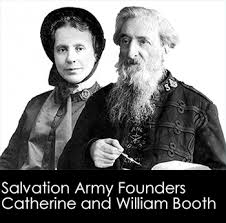 Their ministry in 19th century England was designed to attract "wife-beaters, cheats and bullies, prostitutes, boys who had stolen the family food money, unfaithful husbands, burglars, and teamsters who had been cruel to their horses."
Salvation Army ministers did crazy things to get people's attention: Captain John Lawley would dive into the ocean from the pier he was preaching on—in the middle of a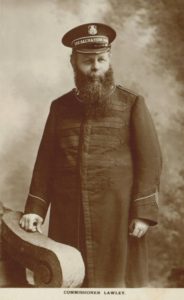 sermon— to illustrate the "boundless ocean of God's love." He would then finish the sermon in the sea. James Dowdle would slam his violin case down on a busy sidewalk and shout, "Stand back! It might go off!" As people gathered out of curiosity, he would play and preach. Another Salvationist dressed as John the Baptist; still another, a former violent criminal, dressed in his prison clothes and preaching in the street.
The record speaks for the results of these creative approaches: The Salvation Army has over 2,000,000 members serving in 127 countries in 175 languages.
"Do not stop him," Jesus said. "For no one who does a miracle in my name can in the next moment say anything bad about me, for whoever is not against us is for us."
Does it matter to you that Christ is preached? Are you supportive of those who do, even if it's in a way that you don't care for? Can you rejoice when his name is lifted up, spoken about, and proclaimed?
If so, when you see me on the streets or in front of the grocery store handing out Gospel tracts, please pray for me.