At the Ambassadors' Academy evangelism boot camp held last weekend, there were a multitude of things taught to the nearly 50 people who arrived from around the country. One of the highlights for the students is getting on the preaching box at the Huntington Beach Pier and belting out a Gospel message.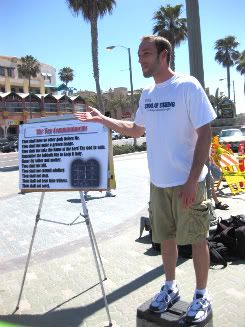 This is Tim Wiersma. It was his first time "on the box" in Huntington Beach; he preached for about three minutes max. After he had finished speaking, a young woman named Maya approached me and asked about repentance.
"What does it mean to repent?"
"It means to have a change of heart and mind about your sin." After explaining this a little further she wanted to get right with God.
I then asked her what made her want to come over and talk about these things.
"Him," she said, pointing to Tim. "I heard him talking about repentance and wanted to know what I needed to do. I wanted to stop and listen, but my friends continued to walk on."
I gave her a Gospel tract and encouraged her to not wait too long before committing to Christ. She said she would do it that night.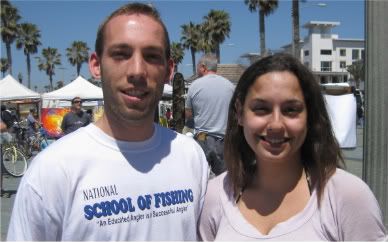 How effective is preaching in the open air? Well, as Tim learned, God can do anything He wants with a willing vessel. Tim faced his fears and was obedient to God. I'm looking forward to seeing Maya someday in Heaven.
R.A. Torrey wrote this over a 100 years ago: Open-air meetings impress people by their earnestness. How often I have heard people say, "There is something in it. See those people talking out there on the street. They do not have any collection, and they come here just because they believe what they are preaching." Remarks like this are made over and over again. Men who are utterly careless about the Gospel and Christianity have been impressed by the earnestness of men and women who go out on to the street and win souls for Christ.