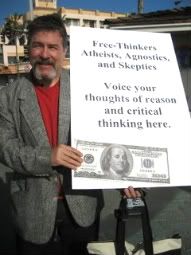 Lately, a contingent of atheists has been visiting/heckling Ray Comfort regularly in Huntington Beach. Everyone loves them because they draw larger crowds which allows for more people to hear the preaching of the Gospel. You might say that a vociferous unbeliever is an evangelist's best friend. In the video, witness an atheist fail miserably when confronted with the logic that Ray Comfort exclaims from the box.
If you'd like to join the excitement, we're going this Saturday. Meet at Hope Chapel at noon to carpool.
Also below, read about how my then 8-year-old daughter dealt with these atheists on that very same day.
My Daughter Confronts the Atheist
My daughter D.D. and I visited Ray Comfort and his team on Saturday down at the Huntington Beach Pier where we encountered a bunch of evangelistic atheists. One rather caustic man, Frank, challenged my daughter after I asked her this question in front of him: "D.D., is there a God?"
D.D. replied matter-of-factly, "Yes!"
With a smile, I pointed out to Frank that even an 8-year-old child knows that God exists. Click here to read the rest.