I hit El Camino Community College last week, a school that hosts 26,000 students. Starting next week I'll be going on Tuesdays and Thursdays, from 12:30-2PM. I'm affectionately calling it TNT (Tuesdays and Thursdays). Join me. Read about my encounter with the student gays versus the college "Christians" here.
This Saturday we will be joining up with Ray Comfort down in Huntington Beach to share our faith. Meet at Hope Chapel to carpool at Noon. We will leave promptly at 12:15PM.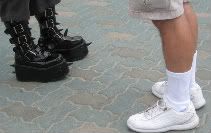 How beautiful on the [beaches] are the feet of those who bring good news, who proclaim peace, who bring good tidings, who proclaim salvation… (Isaiah 52:7)
Read about how the local bicycle "rickshaws" enacted their revenge on the open air preachers at the very first Ambassadors' Academy here.
 
Next week:
Sat., Sept. 26: USC Football!!!
Sun., Sept. 27: Arab American Festival