Join us this Saturday as we venture down to the Huntington Pier to witness with Ray Comfort.
Carpool from Hope Chapel at noon, or meet us at the base of the Pier at about 1:30PM.
Now read about the time when an an atheist evangelist tried to share my preaching stool at the Huntington Pier, but I got the better of him….
MY FRIEND FRANK, THE ATHEIST PREACHING DUMMY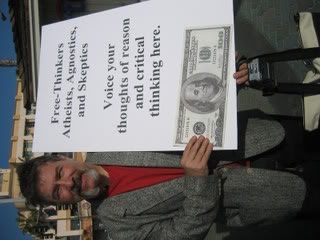 Atheist evangelists. Why? Can you think of anything more ridiculous than grown men standing around with signs proclaiming that God doesn't exist? If He doesn't exist, why even mention it? This sounds like something that would go over really well at a keg party, with half-snockered frat boys giving wedgies while inhaling from beer-bongs. Nope. These guys were middle-aged engineers, wasting their time under a brilliantly beautiful blue sky—a designer-less heaven, of course.
But I had a little fun with them, especially Frank "Millstone", the clueless man who tried earnestly to convince my little girl that there was no Santa Clause, no Easter Bunny, and therefore, no God. Click here to read the rest of the story.