That's Happy New Year in Vietamese! Today is the start of year 4707 for the Chinese and Vietnamese: The Year of the Ox!!!
In Little Saigon last year, we were mobbed—mobbed—as we handed out Million-Dollar Bill Gospel tracts and $100 Giant Money tracts.
Right at the get go, this man gave his life to Christ!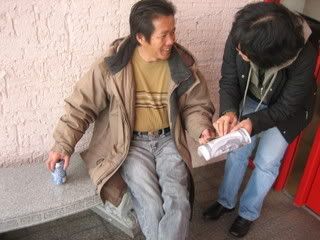 Of course, Security came to warn us that we couldn't do what we were doing;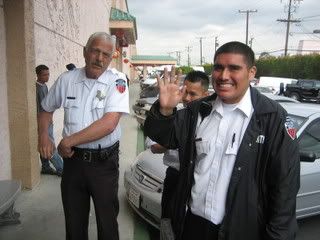 …we stood our ground, asked for the Watch Commander, and told him that we had a right to be here. The result? They let us stay!
For lunch we knoshed in a wonderful Viet diner. We found out that our waiter, a Christian, lived by the dump and this was his first day on the job; he was a homeless man who needed some encouragement. We pulled out a red envelope, stuffed it full of real money, and left it as a tip.
On this day, that was better than a million dollar bill!
Read about the 103-year-old lady who loved her Gospel tract, and tried to kill her son-in-law here.