Several weeks back I wrote an analogy titled The  Drowning Woman that illustrates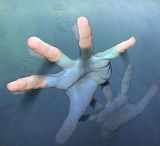 why our evangelists go to such drastic extremes (like preaching atop trash cans and in elevators) to try and save some from Hell. The Christians agreed that it was an accurate metaphor, while, unsurprisingly, the atheists did not, dismissing what we do as "Jerky Evangelism." The post received over 130 comments, so it was quite controversial. (Read "The Drowning Woman" by clicking here).
One man, under the pseudonym Quasar, wrote his own analogy from the atheist's viewpoint. Read it and respond. Does he have a valid point or is he way off the mark?
Here's what Quasar wrote:
From your perspective, the analogy is valid. You honestly believe there is a sea and that the woman is drowning in it. From our perspective: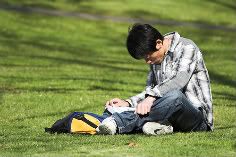 We are sitting on a grassy field in the middle of a park casually reading a novel, when suddenly a car screeches to a halt next to us, and a random guy in speedos and a lifeguard t-shirt leans out. He shouts "Are you okay?" in a very loud voice.
"Um… yeah, we're okay," we reply somewhat nervously.
"You sure?"
"Yeah, we're good," we say, raising an eyebrow and putting the book down on the ground next to us.
Suddenly, he dives out of the car in a perfect swan-dive. We watch in astonishment as he flails about on the grass, miming a breaststroke, screaming at us. "I'm coming to save you!"
As his crazy random movements slowly bring him closer to us purely by accident, we lean away from him and say "I told you I'm good… what are you doing?"
"Don't worry, I'm almost there!" he shouts madly.
Confused, and slightly worried by this weird behavior, we go to stand up, when the man grabs us by our hand. Shocked, we bat him away.
The situation goes from bad to worse as the apparently insane man starts grabbing at us, pulling at our clothes. Slapping him away, we try to escape his clutches, only to have him grab us by our hair, put us into a painful headlock, and start dragging us towards the car.
Now fearing for our life, we continue to struggle, kicking and screaming for help. The man continues to violently drag us toward the car, pulling us into the open door. Using the door to kick off, we manage to get a hand free and viciously gouge at his eyes, biting at the hand around our face as we do so.
The man lets go, and we run some distance away from the car. A quick glance over our shoulder reveals he's not watching us run: he's sitting in the car staring at the ground in front of him with a sad and horrified expression on his face.
Catching our breath, heart still racing and ready to run if the man makes any move towards us, we watch as a similar car pulls up next to the first. The passengers in this car frown at the man and start criticizing.
"You could have handled that a whole lot better," one suggested.
"Yeah. We find that if you talk to them for a bit, they don't react so violently."
Watching in disbelief, we realize that these people are suggesting better ways to drag someone into their car. They must be some sort of cult, or criminal organization. We back away, hoping not to attract their attention.
Another car pulls up.
"You're a jerk!" shouts one of the passengers in the second car. "That was really rude. You should have left him alone!"
Rude? we think. Are you kidding me! He assaulted me and tried to drag me into his car!
The guy who apparently thought he was a lifeguard listened with an exasperated look on his face, and appeared to give it some thought. We stood in the middle distance, heart still racing from the terrifying ordeal we had just endured, wondering what sort of drugs he was on and hoping someone sane had called the police by now.
Finally, the lifeguard raises his head and says, "I'm a lifeguard. I do what I can to save people."