I was hoping for something special on Hollywood Blvd. as 50 evangelism students from the Ambassadors' Alliance, a new evangelism training ministry from Ray Comfort, arrived in Tinseltown—and it happened: A huge crowd gathered across the street from Grauman's Chinese Theatre. What was going on? Didn't know for sure, but the crowd was huge…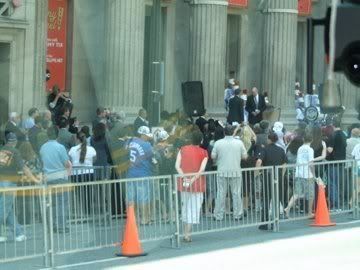 We rushed over to see what all the excitement was about. After surveying the situation, I couldn't figure it out, but… the crowd was huge—and dwindling fast. Whatever happened, already happened. I had to think fast, think fast… I set up my preaching stool and launched into an open air sermon; I wanted the students I was leading to see that we always have to be ready, ready, ready to preach at any given moment with no distractions, in season and out of season, and all that. Nothing should ever—ever—deter us from the importance of Gospel preaching. Nothing. Ever. Too many people die everyday without Christ; we all had to do our part, and we must do it loud. Time was of the essence. Preach it brother!
I did. For thirty seconds.
The crowd rustled, then swayed; I thought I saw it actually part… Hey! There's John Travolta!
Immediately I felt the call of God to abandon all previous commitments to preaching on the stool. I wanted a picture of the second-most famous Scientologist in the world, preferably, while holding a Gospel tract. Whipping out my camera and taking aim, I tried to focus—then… he disappeared! The crowd dispersed. I lost my audience, didn't get my picture, and never handed a tract to Travolta.
But a fella from the midwest who was part of the evangelism training did. He handed ole Mr. Saturday Night Fever a million dollar bill which he promptly signed, then handed back. Mr. Midwest evangelist then handed him another—which he kept.
Hopefully he'll read it and believe,
ensuring that he will be staying alive someday in Heaven.
With head hung low, I slowly climbed back onto onto my preaching stool and shouted salvation half-heartedly to a few people with their backs to me.
But what I really wanted to do was hand a tract to Travolta.
(Note: The crowd was there to see Travolta supporting his friend, former Disney head Michael Eisner, as he got his star installed on the Boulevard. Click here to see the video of my embarrasing moment.)