Evangelism students from across the nation got an eyeful on Hollywood Boulevard. When they signed up to be a part of the Ambassadors' Alliance evangelism bootcamp, a new ministry started by The Way of the Master, I'm sure they never expected the wide array of interesting characters they'd see while practicing their evangelistic chops.
Student Jennifer Good dared to give Rambo a Million Dollar Bill Gospel tract, and he didn't even try to kill her.

Our hope is that this Stallone-wannabe would repent, turn to Christ, then get a better job after reading the Gospel presentation on the back of the bill.
The everpresent homeless also heard the Good News.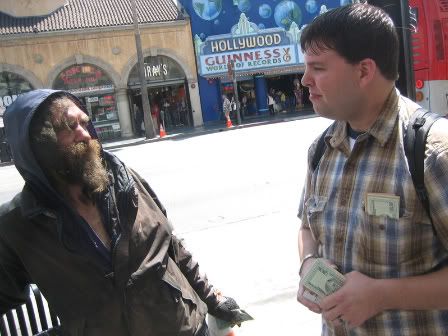 As did an orthodox Jewish man, who listened intently to "Righteous Richard" Chavarria as he revealed the identity of his Messiah.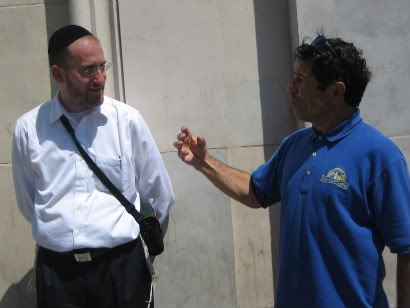 But the strangest being on the Boulevard was this guy.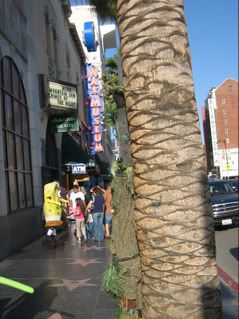 What guy? Exactly. Look carefully. It's the Demon Tree Guy, a man standing on 5-foot stilts, waiting silently, sneakily, for passersby. As strollers walked past him unaware, what do you think he did?
GOTCHA!!!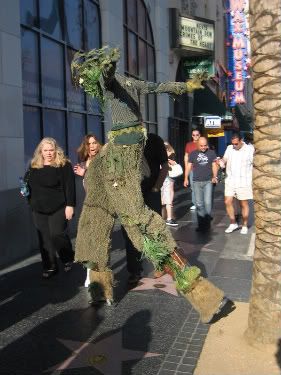 That's right. He stands next to a tree, looking like a tree himself, then steps out and scares people—all day long! Why? I don't know, but it sure was funny. One of the evangelism students, Michael Chamberlain, after preaching boldly in front of Grauman's Theater, screamed like a little girl when the Demon Tree Guy stepped out in front of him.
Another group of men were so startled that they swore up and down at him. The Demon Tree Guy's response? "Hey! What do you expect on Hollywood Boulevard?"
I was so impressed—and entertained—that I tipped him with a giant Hundred Dollar Bill.

I love to reward creativity.