(Read parts 1-6 with succeeding links by clicking here.)
I laughed to myself.
At the first day's training of the Ambassadors' Alliance, a ministry where people from all over the country came to be coached in a three day evangelism bootcamp, a couple of the teachers assured the class that no one would be pushed to do something they didn't want to do. "No one will make you do anything," Tony Miano, the organizer of the event, said over and over.
I thought to myself: People are paying a goodly amount to be taught how to evangelize effectively. They've also paid for their airfare, AND sacrificed a lot of time to be here at this training. I don't want people to go away wondering what they could have done or should have done; I want people to go home thanking God for what they did!" So I pushed them… just a little…
In front of Grauman's Chinese Theatre, two ladies, Lesa and Cheri, who never even handed out Gospel tracts on a regular basis, stood on a stool and preached the Gospel powerfully to the forecourt, while tourists inspected the handprints in cement. I hardly pushed at all; God did the pushing.
Lesa Dae belted out the message…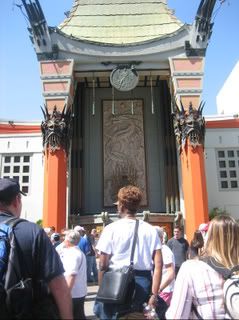 So did Cheri Mills…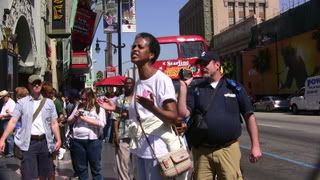 But in the background, skulking, was the chicken lady, a worker for the Star Tours buses, who refused to take a Gospel tract.


"SHADDAP! SHADDAP!" she clucked, as everyone continued to preach.
I grabbed Victor Stinson's elbow. Bam! He climbed on the preaching stool.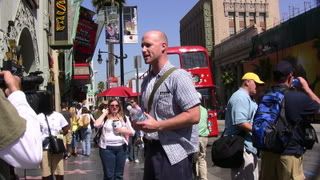 A little nudge, and Michael Chamberlain stepped up, in spite of his objections to open air preaching…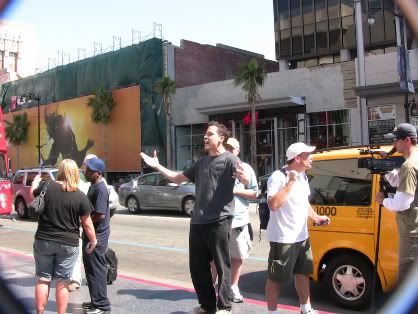 Later, the demon tree guy of Hollywood Blvd. scared the pants off of him…
And the chicken lady, growing more agitated by the moment, continued to squawk: "SHADDAP! SHADDAP!" rebuking all those who tried to hand her anything about Jesus.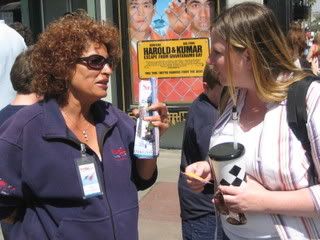 The husband and wife team, Dennis Feely and Jennifer Good, The FeelyGoods, after a little encouragement, also jumped on the stool shouting repentance to tourists from Idaho, Iowa, and other far-flung places that begin with "I".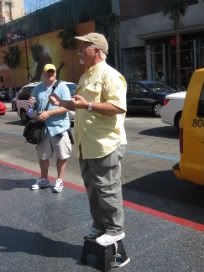 Big John Chisam from Minnesota, needed no pushing to jump on the stool. But when he did, he crushed it—twice! I didn't push him to stand on it again. Neil Collins, also a large man, fixed the stool—twice—and preached without it, I think.
The chicken lady circled, feathers ruffled. I convinced Alan Lee to hand her a Gospel tract—a million dollar bill! What would she do? She took it!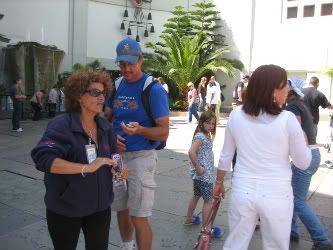 Then promptly ripped it up, shoving it back into Alan's hands.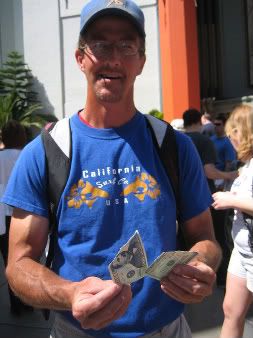 I had an idea. I wanted to hand the chicken lady an unrippable, untearable, impossible to shred, Ticket to Heaven Gospel tract. She would grab it, try to tear it in half, then when she found out that it wasn't possible, we'd win her over and share the Gospel.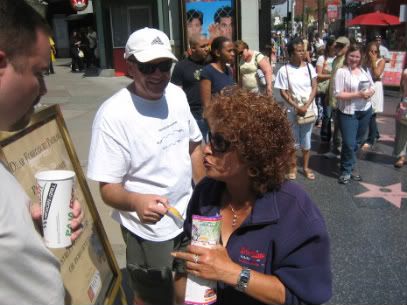 One problem: She refused to take it.
I tried to push her a little, just a little, but no go. Maybe next time, I'll gently grab her by the elbow, and ask her to stand on a stool and preach, "SHADDAP! SHADDAP!"
The evangelism students nicknamed me "The Pusher". To this day I can't understand why.