How tough is Leuzinger High School in Lawndale?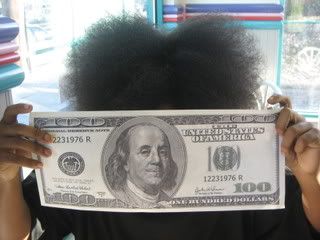 Well, this student didn't want to be recognized because  "I have too many warrants out for my arrest." Uh huh. Maybe.
One young woman warned that the kids wouldn't listen to us preach because we were white. Then she added, "You just come to this school because a lot of the kids are in gangs." Very true!
It's been a month since we've been coming to Leuzinger just a few miles from our beach church, yet it is worlds apart in terms of culture. Every Tuesday afternoon a few of us arrive after school is out, and we stand at the main intersection where all the kids have to cross to go home. Thousands of teens have to pass by as we hand out Gospel tracts and share the Law and Good News with whoever will listen. And they do listen…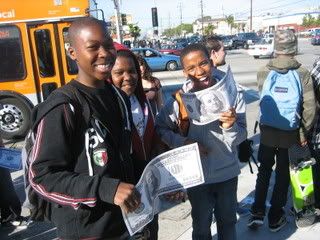 The L.A. Sheriffs park their cars right next to this corner every week, just to ensure that order is maintained. And believe it or not, they are appreciative that we are "spreading the Word."
At a Taco Bell adjacent to our corner, I asked some kids if they thought we were weird for doing what we were doing. "No," one girl replied, "you just want to tell us about God." Another girl conceded that it was a little weird.
We don't care. Most of these boys and girls are on their own, directionless, belonging to churches, but not fully understanding what a relationship with God entails. We tell them that no one can be good enough to get to Heaven. We warn them that if they have ever lied or stolen or misused God's name one time, then God will see them as liars, theives, and blasphemers. I explain that Jesus said that if they even look with lust, then they are guilty of adultery, and the Bible calls hatred murder. If they died right now, they would go to Hell forever to pay for their sins. But if they repent and put their trust in Jesus, God will forgive them of every sin they have ever committed.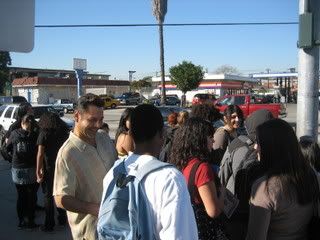 Admittedly, it's hard to hold their attention, but I discovered the secret in attracting an  interested audience: food.
Walking into the Taco Bell with my friend Shane we announced to a group of  teens that they could have whatever they wanted to eat. I was met with stunned silence. Then: "Really?" "Can I have two burritos?" "Sodas too?"
"Yes," I nodded. More and more kids piled in. The counter ladies warned them all to behave.

Shane and I smiled.
So did the teens!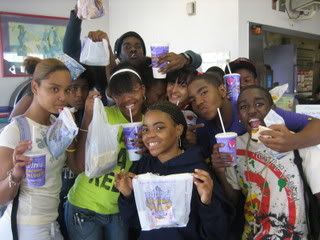 And now I had a platform to preach the Gospel… and it cost only 90 bucks! The kids were very appreciative, thanked us, and actually listened to what we had to say.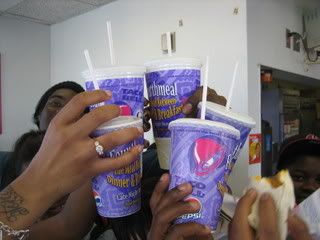 Cheers to the two old white dudes!
I was feeling pretty self-satisfied about what had happened and looked forward to doing this again next week. With head held high and a smug smile on my face I started walking out of the restaurant when all of a sudden I heard a SPLAT! I looked down to see that I had stepped on a ketchup packet—and it exploded. I turned around, and to my horror, I saw a sweet little girl with a look of shock on her face. The ketchup had splashed her from head to toe. I offered my apologies profusely, and gave her my email address so I could replace any damaged clothing.
I don't know if she was yet covered in the blood of Jesus, but for that moment she was indeed soaked in holy condiment. I'll ketchup with all of them next week.
This afternoon I'm trying out a new weekly evangelism territory at a local community college with "Righteous" Richard Chavarria. Can't wait to see what happens…