In a few weeks, I will be changing the name of E-vangie Tales & More to www.StonethePreacher.com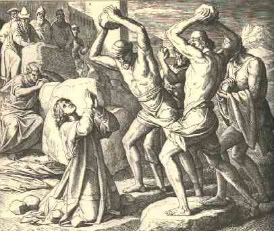 Why? It's funnier, a little more interesting, and easier to spell.
Really now, if you were to ask people which site they's rather visit, EvTales.com or StonethePreacher.com, what do think they'd choose? Exactly. It's possible that our atheist friends might want to take a peek…
The tag line will be "Evangelism with an edge… and a sense of humor!"
I have been advised by a web expert that the name change will possibly increase the traffic. And since I want more people to learn to evangelize—and to be encouraged while they evangelize—I want more people to visit. Look for the banner to change soon, too.
The address www.EvTales.com will still be used, but if you'd like to change the name at your site, feel free.
A rose by any other name…