By now, readers of this blog know that the evangelist's call to action is Mark 16:15.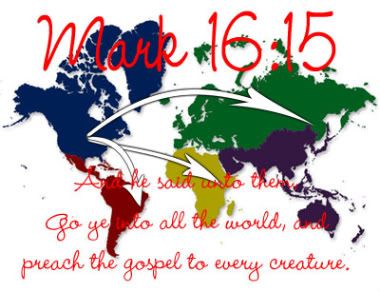 But there are other reasons to go; fractions and percentages tell us why:
25% (or 1/4) of the words Good News is Go!
33% (or 1/3) of the word Gospel is Go!
66% (or 2/3) of the word God is Go!
But here's an even more compelling figure:
2% (or 1/50) of the excuse "Golly jeepers! I could never share my faith, evangelism isn't my gifting; it's definitely not for me. Get somebody else to do it!" is Go!
Sadly, 2% is the number of Christians who actually share their faith.
(Another stat: 10 out of 10 die, the majority of them will end up in Hell.)
(See another article of statistics called "Persecution by Percentages" by clicking here.)