NEWSFLASH!!! WITH TWO WEEKS LEFT TO GO,
A MAJORITY OF THE STUDENTS ARE STILL IN THE CLASS!!!
QUICK! CALL MOM!!!
"Boldly and without hindrance [Paul] preached the kingdom of God and taught about the Lord Jesus Christ." Acts 28:31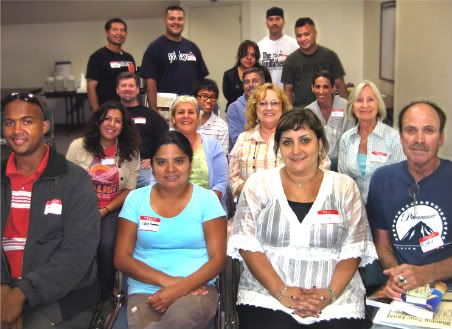 Our newest six week evangelism class, "Sharing Your Faith Without Fear," has seventeen students. Will the 50% rule apply? I sure hope not. Pray for them.
The 50% rule is fairly standard for those who teach evangelism classes. Half of the students drop out before the class is done; in fact, most drop out before the fourth class starts. Why is this? I have a theory: When you take a theology class, at the end, you will be a little smarter. If you take a course in prayer, by the time you graduate, you will know how to pray. And you can do that alone. But when you enroll in an evangelism training, you will be required to share your faith at the end of the class.
That's too much to ask for many Christians. They'd rather let those who have "the gift" of evangelism do that. Hence, a 50% drop out rate!
This is the place to post your very own evangelism adventure. Every other week I'll bring this post back to the top of the blog. Remember students, you get one bonus point for every three sentence adventure that you write about.
My teaching notes and student notes—over 100 pages of material—are available free of charge, except for postage. Just email me your address (PastorSteveAtHope@yahoo.com) and my awesome assistant Barbara will get these out to you. Soon they will be online.