SOME MAY DIE. Most won't. Some will drop out or change their minds about college, while others will train for a trade. Others may shack up or get married, while the majority, unfortunately, will get their hearts broken. Disease. Setbacks. Disappointments. Freedom and not knowing what to do with it. These are the challenges facing the graduating class of 2019. The same challenges the class of 2018 faced. And 2017. 2016…and every class previous.
It's called life.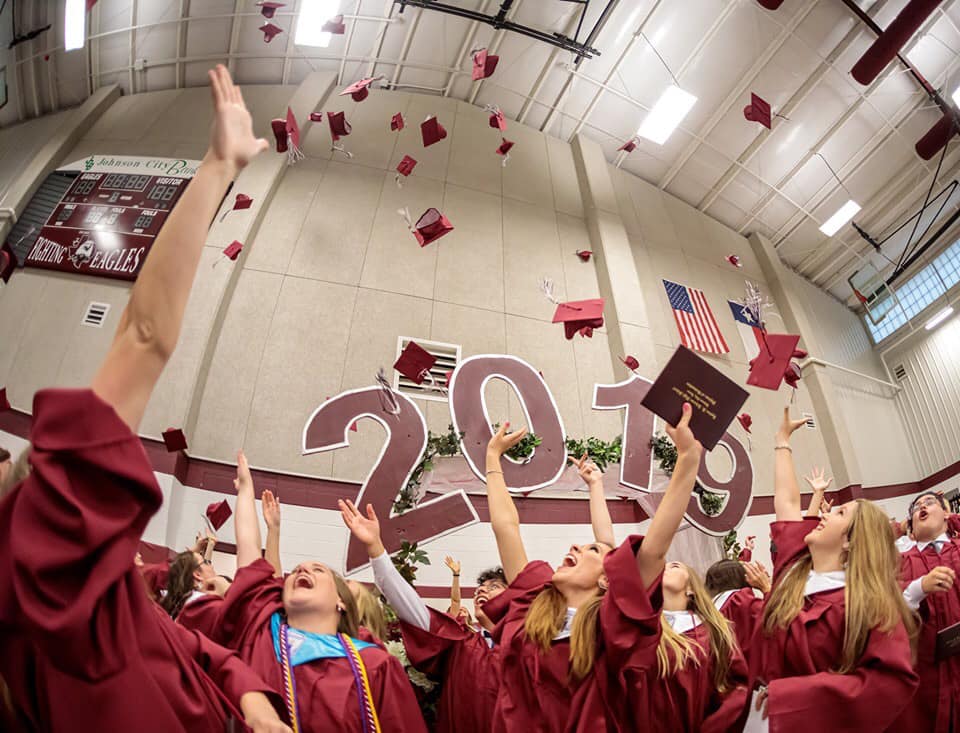 It's taken 18 years for high school grads to get to this point. They've been in school for 2,160 days, spending 12,960 hours in classes which translates into 777,600 minutes. If one was a Frequent Flyer in Detention, then add a few more hours—or days. Each student has existed about 216 months, taking up space for 9,434,880 minutes, sleeping 52,500 hours, watching some sort of screen for 12,173 hours and spending 7,488 hours eating, mostly pizza and Mexican food.
Many will look back at their days in high school as the best ever. That was the easy part of life; it's all uphill from here:. THE REAL WORLD AWAITS.
I'd like to say this to the graduating teens: "Carpe Diem!" Or, "It's not the number of days given but what you do with those days." Or, "The future is in your hands!" "The world is your oyster." I'd like to say those things, but I won't, because others have. Just Google them.
Let me warn y'all though: You may have your plans and your futures all mapped out and think you are taking the first steps onto what, hopefully, will be the road to success. But! BUT! This is what the Bible says: "Come now, you who say, 'Today or tomorrow we will go into such and such a town and spend a year there and trade and make a profit'— yet you do not know what tomorrow will bring. What is your life? For you are a mist that appears for a little time and then vanishes. Instead you ought to say, "If the Lord wills, we will live and do this or that." (James 4:13-15)
The key phrase: "If the Lord wills. We will live and do this or that." You can do nothing apart from the Lord's will, whether you believe in him or not. Everything that comes to pass comes through him because the Lord is God who is in control and ordains everything that comes to pass. "We may throw the dice, but the Lord determines how they fall." (Proverbs 16:33) "Many are the plans in a person's heart, but it is the Lord's purpose that prevails." (Proverbs 19:21)
Every day he has planned out for you whether you acknowledge him or not. David understood God's sovereignty over everything, including him and his days past, present and future:
"O Lord, you have examined my heart and know everything about me. You know when I sit down or stand up. You know my thoughts even when I'm far away. You see me when I travel and when I rest at home. You know everything I do. You know what I am going to say even before I say it, Lord. You saw me before I was born. Every day of my life was recorded in your book. Every moment was laid out before a single day had passed." (Psalm 139:1-4, 16)
Whether you believe in God or not, whether you have trusted Jesus or not, whether you believe in the bible or not, He's still in control of your life. The question is: Have you acknowledged who he is? Have you given your life to him?
You can deny him, ignore him and mock him; you can live your life the way you want, on your own, apart from God, but I say to you today that there is something more important than what happens after graduation that is eternal. There is One who loves you and desires a relationship with you, who promises to be with you all your life and into eternity. There is One who holds your future in his hands, who will help you in your struggles, protect you in dangers, give you wisdom in confusion and promises you a hope and a future.
His name is Jesus.
With all the education you have received so far and with all the knowledge you will receive in the future, whether through institutions of higher learning or through the lessons gleaned from the hard scrabble path of life, the smartest thing you can do is put your trust in the Savior of the world.
Proverbs says, "Fear of the LORD is the foundation of true knowledge, but fools despise wisdom and discipline." (Proverbs 1:7) Do you want true knowledge, or will you be a fool? You can make the choice for him today. Don't wait. Because "If the Lord wills. We will live and do this or that."