Since the beginning of this year on Wednesdays I've been posting about modern day
Christians being persecuted for their faith. Now's the chance to hear from some of those who have survived. We will be attending the Voice of the Martyrs "Bound with Them" Conference this Saturday. Carpool and details below.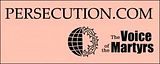 Here is the list of speakers and what happened to them.
Gracia Burnham

– A militant Muslim group, the Abu Sayyaf, kidnapped Martin and Gracia Burnham, missionaries to the Philippines, on May 27, 2001. The Burnhams were in captivity for 376 days. During an eventual rescue attempt by the Philippine Army on June 7, 2002, Martin was killed and Gracia was wounded. Her story is told in the books "In the Presence of My Enemies" and "To Fly Again."
Bob Fu, founder of China Aid Association (CAA), was raised in mainland China. He was a leader in the student democracy movement and God used its failure to bring Bob to Himself. In 1992 Bob became the pastor of a house church. Four years later he and his wife were imprisoned. After fleeing to the United States, Bob Fu began CAA to draw international attention to the persecuted church in China.
Pastor Steven Khoury is the youngest ordained Arab pastor in Israel and the Palestinian territories. Pastor Khoury currently writes articles for Al-Quds, the largest Arabic newspaper in the Holy Land. He is also authored the book "Diplomatic Christianity: Standing in the Shadow of Tomorrow's Persecution."
Getaneh Getaneh is a gentle man whose radiant face belies the horrors he experienced during the red terror of the Mengistu regime in Ethiopia. Arrested by the Communist authorities for preaching, he was tortured, denied food, water, and sleep for days during his imprisonment. He eventually escaped prison and fled the country.
Robert Brock has been on staff with The Voice of the Martyrs for over 15 years. He has met with and served our persecuted brothers and sisters in China, Sudan, Pakistan, Indonesia, Vietnam, Cuba, India, Myanmar, Laos, Egypt, Bangladesh, Colombia and many other countries.
Conference is Saturday March 26th from 9AM – 4PM. Meet at Hope Chapel at 7am to carpool.
More details:

Doors open at 8AM for registration, resource center (with books, DVDs, t-shirts, etc.), and prayer room.
Lunch is noon – 1PM on your own at area restaurants. A map will be available at registration.
There is no cost to attend but an offering will be received.
There will be no childcare.
Host church and conference location: Cottonwood Church, 4505 Katella Ave. Los Alamitos, CA 90720
A link for directions to the church can be found on the conference webpage by clicking on this link  Southwest USA (CA/AZ/NV) or visit www.vommeetings.com
REGISTRATION
To register, which is required, and for more information, click on this link Southwest USA (CA/AZ/NV) or visit www.vommeetings.com . You can also register by e-mailing conference@vom-usa.org your name, phone number, and the number attending.
Please forward this e-mail to your Pastor, family and friends. If you have a facebook account, please mention the conference on there also. Help us spread the word about this conference!
Here are a few responses from recent VOM conferences…
§  This was a life-changing event for me.  I am so thankful I attended. Thank you for all of your efforts. N.
§  I wanted to thank you for holding the conference this past weekend. While we have been receiving the VOM newsletter for the past few months and receiving emails, it hadn't hit us like seeing the people with our own eyes and hearing their stories. Thank you for the eternal impact you have made on our family. God bless you, R.
§  First of all, let me say that I absolutely LOVED the conference today! What an amazing and inspiring experience. We have a lot to think about. Well done, VOM!  T.
§  Thank you and all of the staff so much for a very memorable day. All the speakers had us captivated by their testimonies. Thank you again for such a wonderful and blessed day. God Bless, C.