It pays to think creatively when sharing the good news; don't stick with the same old tired method—unless it works. At the USC versus Cal Berkeley game last weekend we had many interesting encounters where we had to trust in Holy Spirit-inspired techniques to get the Gospel out. (Read the first 2 parts starting here.)
Right before game-time people literally flood down the paths to the Coliseum: thousands upon thousands upon thousands of fans heading in one direction, with one purpose, like those legendary lemmings in the Disney documentary, except they aren't heading for a cliff to be dashed on the rocks below; they are heading for an eternity in Hell if they should get too drunk and fall off the back end of a bleacher.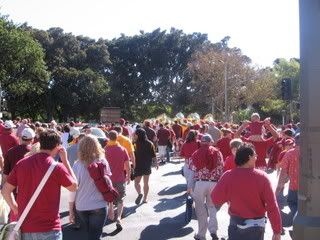 That's why at this time I resorted to handing out Million Dollar Bill Gospel tracts to the masses.

If I could just get something into their hands, anything that warned them to flee the wrath to come, then I would be satisfied. There was a problem: very few people took the tracts; they were too focused on getting inside the stadium. 
One lady was interested though. She returned to me and asked, "May I have one of those Obama bucks?"
 Obama bucks?  I thought. Obama bucks? Yeah!  Obama bucks!
"Here ya go," I cheerfully replied, "here's your Obama bucks!" Delighted she skitted away into the stadium.
Obama bucks, that's the ticket. The majority of the people here voted for Obama; after all, this is the bluest of blue states… and USC was playing Cal Berkeley today, the leftiest leftists imaginable.
"Get your Obama bucks!" I shouted. "Get your Obama bucks right here!" I was mobbed. I handed them out high, handed them out low, from behind my back even. I got taps on the shoulders from happy Obama supporters wanting their fair share of the pie.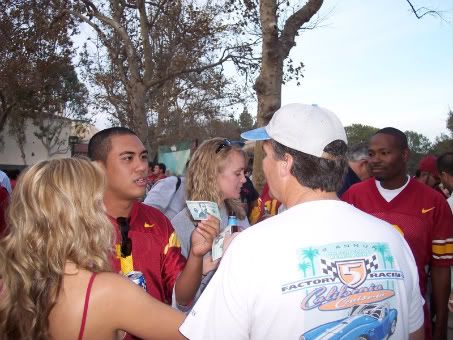 I was only too happy to spread the wealth around, and they were so darn happy to get an Obama buck-million-dollar-gospel-message-bill—except one lady. 
She was mad. Really mad. She slammed two halves of a torn bill into my hand. "Do you think Obama is really a terrorist?" she accused.
"Uh, no," I sheepishly answered, glancing at her Cal Berkeley T-shirt.
"Then why is a terrorist on the front of the bill?"
"Terrorist? Terrorist? That's no terrorist. That's President Grover Cleveland. Where do you go to school, Berkeley?" She laughed nervously at her error, then apologized.
"Obama bucks! Get your Obama bucks! Obama bucks!"
Hey! If you can't beat 'em, join 'em.
(Click here for the conclusion: Pooh-poohed at the Porta-Potty)