"Righteous Richard" Chavarria is a good friend of mine, a leader in our church's evangelism ministry, and an Ambassadors' Academy mentor. Here's a horrific encounter that he experienced recently:
I didn't want to go to the Department of Motor Vehicles to preach this morning. I was full of justifications for not going, but I went anyway and prayed that God would anoint the time. I walked with purpose over to the people waiting in line and asked them, "Are you here for your lotto tickets or for the DMV?" They laughed.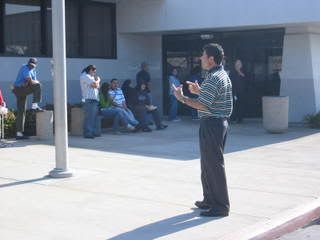 I greeted each person waiting in line with a warm "Good morning" and handed everyone a Gospel tract. A woman at the end of the line handed the tract back to me. "I'm not interested," she said. I took it back and thought, That's okay; she'll soon be hearing the message anyway. Taking my position adjacent to the line, I began to preach.
I looked over at the woman who didn't want her tract; she scowled back. Suddenly, she bolted from the line, got right in my face, and started yelling and holding up several sheets of white paper in front of my face in an attempt to stifle the message.

"Nobody is interested in what you are saying! Be quiet!" I stepped aside and continued to preach, but she wouldn't stop holding the sheets of paper in front my face, nor would she stop yelling at me to stop.
My permit to preach at this DMV forbids me from standing on anything, so I was at ground level with this crazy woman and unable to avoid her obnoxious efforts to silence me. "You're lying!" she declared. "You're full of expletive deleted! Nobody wants to hear this stuff! It's a bunch of expletive deleted!" Others in line and in their cars started to side with her, encouraging her to shut me up.
"I have a permit to do this," I explained. "We can go inside the DMV office and I will show it to you." Not knowing what to do I stopped preaching and walked to the back of the line. She stopped too, then got back in line.
I went to another part of the line and started preaching again, picking up at the point in the sermon where I left off.

The crowd was now agitated. A little old white-haired man started yelling, as did another man. I couldn't make out what they were saying, but I'm positive that it wasn't "Amen, Brother! Preach it!"
The angry woman stepped out of line again. "Nobody wants to hear this stuff!" she reminded me again. She grabbed the lanyard that hung from my neck. "Please stop. Don't touch me," I warned. I wear a phony identification badge that says Department of Annoyance. It looks official but is really a Gospel tract that usually invokes a laugh or two when someone reads it.
This lady wasn't laughing.
She read aloud from the "ID": "Department of Annoyance… I want your name!" To make sure that I understood her request, she emphasized her point by hitting me on the head with her sheets of paper.
"Stop this!" I warned again.
"You have to stop. Nobody wants to hear this stuff," she reminded me again. Then she left and got back into line.
I was finished. Thoroughly embarrassed and befuddled, I went back to the end of the line to hand out more tracts. The Security Guard motioned for me to come over. Oh no, now what? Would this be the day that I'm ordered off the premises?  The Guard was concerned. "We received a report that someone had been hitting you on the head with paper; that's assault. Do you want me to call the police?"
Though tempted to take matters into my own hands, I thought better of it and declined the opportunity to press charges.
This is all in a day's work for a preacher of the Word.
R.A. Torrey wrote this over a hundred years ago in an article on open air preaching.

Don't get scared. Let Psalm 27:1 be your motto: "The Lord is my light and my salvation; whom shall I fear? The Lord is the strength of my life; of whom shall I be afraid?" There is not a particle need of being scared. You may be surrounded by a crowd of howling hoodlums, but you may be absolutely certain that you will not be hurt unless the Lord wants you to be hurt; and if the Lord wants you to be hurt, that is the best thing for you. You may be killed if the Lord sees fit to allow you to be killed, but it is a wonderful privilege to be killed for the Lord Jesus Christ. One night I was holding a meeting in one of the worst parts of Chicago. Something happened to enrage a part of the crowd that gathered around me. Friends near at hand were in fear lest I be killed, but I kept on speaking and was not even struck.
(Since January of this year Richard has preached at the Hawthorne DMV 60 times. At this location alone he has handed out over 3,442 tracts and has preached to over 2,126 people. More sinners have heard the pure unadulterated Gospel in six months there, than in a lifetime at some megachurches.)
Read Richard's encounter with a drunk here.
Read Richard's confrontation with Staples Center Security at the NBA Finals here.