The Hollywood Christmas Parade has become a favorite destination for our evangelism team because of the huge concentration of B-list celebrities who populate it.
Who wouldn't be excited to see Fival and Booboo Stewart?
Everyone would certainly scream with delight at the sight of Kirsten Vangsness, Gig Morton or Brendon Meyer, wouldn't they? If not them, how about this hot list of drama kings and queens? Titus Makin, Jr. , Dillon Lane or Ted McGinley—yes, they were all there! And all of us on the sidelines wondered aloud with our traditional chant: "Who are these guys?" (In all fairness, most of these people are in shows aimed at kids…and those kids were screaming at the top of their lungs when they passed by.)
Our goal, as every year, is to hand out thousands of Gospel tracts to those watching on the side of the road. And we did. Our team of 17 nearly ran out of them after the first mile.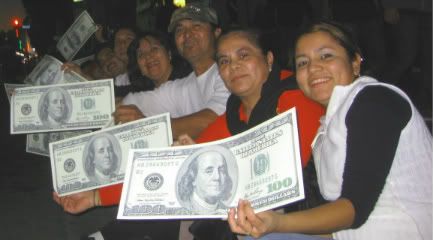 We also try to get a few Gospel tracts handed to famous people so that they may turn to the Lord and influence thousands, even millions with the Gospel, which of course, can save from Hell. (For a more detailed explanation of our thinking, click here.)
Because there were so many gaps in the parade (click here to watch how to preach during the gaps), some up to fifteen minutes long, we couldn't wait for the Grand Marshall, Marie Osmond, but we did get a tract into the hands of, believe it or not… the cast of "Bucket and Skinners' Epic Adventures"!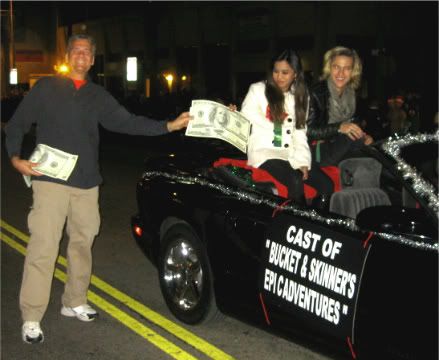 I thought that you would be excited about that.
A real celebrity did appear though, and La Toya Jackson took my tract willingly. I don't know if she's still a Jehovah's Witness, but the Gospel of Jesus Christ is the power of God unto salvation for all who believe.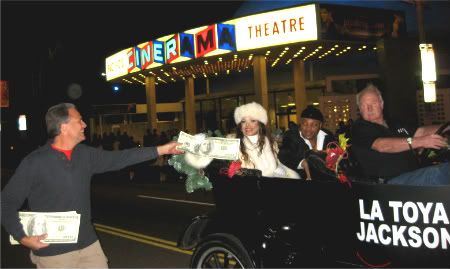 No matter how daffy our evangelistic methods may seem, God can still use all that we do to save His elect.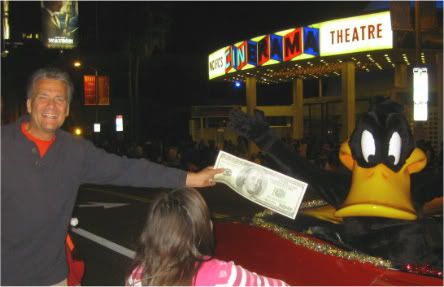 R.A. Torrey wrote this over a hundred years ago from his wonderfully helpful article, "The Use of Tracts."
Comparatively few Christians realize the importance of tract work. I had been a Christian a good many years, and a minister of the Gospel several years, before it ever entered my head that tracts were of much value in Christian work. I had somehow grown up with the notion that tracts were all rubbish, and therefore I did not take the trouble to read them, and far less did I take the trouble to circulate them, but I found out that I was entirely wrong. Tract work has some great advantages over other forms of Christian work.
*****
See the other exciting things that happened at past parades including police interference and many, many more celebrities by clicking on the years below.