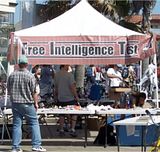 It's the Memorial Day weekend and you have the only booth representing Christ in a pagan street fair called the Fiesta Hermosa (see our photo album here). An angry atheist (the "New Atheist" kind) walks up, you try to share your faith with him, but he won't let you get a word in edge-wise.. He's angry, confrontational, belittling; he can't stand Ray Comfort, insults your God, and is just plain ornery. What should you do? What do you say to someone so irrational that they can't—won't—believe in God?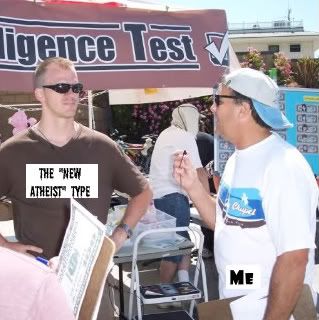 Next week I'll show you how to answer any atheist, no matter how antagonistic, and fulfill your commitment to share the Gospel with every creature—even recalcitrant, incorrigible unbelievers.
Greg Koukl, from Stand to Reason, offers a great perspective on what atheists believe with this article:
Atheists no longer believe there is no God, apparently.  Instead, they merely lack belief in the divine.  They are not un-believers.  They are simply non-believers.  And non-belief is not a claim, so it requires no defense. Click here to read the rest.