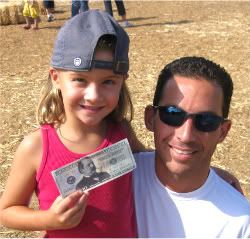 How did you do this month? Did you keep your commitment? You never know who will get the Gospel when you share your faith everyday.
The man pictured with his daughter is Aaron Gryder, the jockey who rode the winner in the world's richest horse race, The 2009 Dubai World Cup, with a purse of 6 million bucks. I gave him a million dollar Gospel tract when the evangelism team was down at the Del Mar Racetrack sharing their faith  with the thousands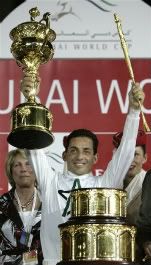 workers who live on the track. Visiting SoCal race tracks will now be a regular part of our evangelistic adventures. (See April's schedule for further details.)
You really just never know who you'll influence for eternity when you share your faith daily.
*****
The Everyday Club is an opportunity for you to make an evangelistic commitment and report on it twelve times a year. (I post each report at the beginning of each month and send you an email reminder.) Wanna join? You can sign up by clicking here.