Here's your opportunity to fulfill at least one resolution in the New Year by joining The Everyday Club. And when you join, you may also enroll in the Bezeugen Tract Club, an organization that will send you 30 free high-quality business card-type tracts a month!
Charles Spurgeon said, "Do something! Do something! Do something!" Please do. Watch the short video then read the details below.
This is an evangelistic Club where you make a goal to share your faith everyday through tracts, personal witnessing or open air preaching. You make your own personal goal and report it here every month.
The minimum goal would be to hand out one tract a day, but you can make whatever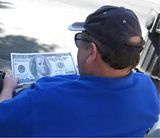 goal you want. So far, nearly 100 people have made a daily evangelistic commitment. Read more about the Club and see who joined in 2009 and 2010.

The Club's purpose is to allow you an opportunity to set an evangelistic goal and monitor your progress and faithfulness to that goal. This is not a legalistic prescription or a vow; it's simply a personal goal.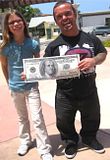 Sometimes you will fall short, other times you'll hit it. (Please read some safeguards against pride written by my friend, Tony Miano, here.)
My own personal goal is to hand out 10 tracts a day or have at least one personal witnessing encounter, and to open air preach when the opportunity arises. Because of my commitment to The Everyday Club I don't want to miss a single day—and believe me, there are some days that I just plain didn't want to share my faith. (Read about evangelist D. L. Moody's (1837 – 1899) everyday commitment by clicking here.)
Remember, it's not a vow, it's a goal! You may fall short of that goal, but at least you'll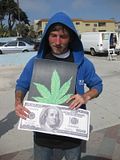 have one. Don't be afraid. Have faith.
Too many times we wait for an "open door" or "that special person" to come along who God wants us to witness to. The early disciples didn't wait, they moved! It's my understanding that Jesus came to seek and to save that which is lost, which gives us carte blanche to speak anytime, anywhere.
Am I wrong here?
Join the club.
So, now that you have decided to become a member then please sign up to get 30 free high-quality business card-type Gospel tracts a month delivered to your home by joining the Bezeugen Tract Club! (Click here to sign up for your 30 free tracts.)
*****
This is the opportunity for you to make an evangelistic commitment and report on it twelve times a year. (I post each report at the beginning of each month and send you an email reminder.) You can sign up here if you'd like to join by simply leaving a comment about what your daily goal will be.