The fifteen-foot Oscar beckoned from across the street as I stood on the corner of Highland and Hollywood Blvds. trying to catch a glimpse of Eddie Murphy or Martin Scorsese before the sunset. Hey! I might even see old Jack—wearing his trademark shades! And all I had to do was jump over the barrier, dash across the street, plant myself in the middle of the red carpet, stretch out my hand to the glitterati and shout, "Did you get one of these?" while offering a Million-dollar bill Gospel tract.
There was only one problem: Twenty-five patrolmen from the L.A.P.D. stood at the ready—willing and able to do a "Rodney King" on any weirdo who dared transgress the hallowed rules of The Academy of Motion Pictures Arts and Sciences.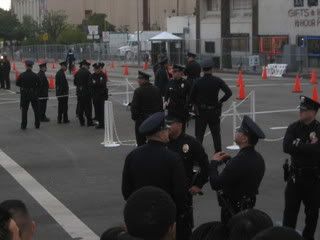 Besides that, about twenty mean-looking, pimply-faced ushers in red vests stood between me and the entrance to the Kodak Theatre.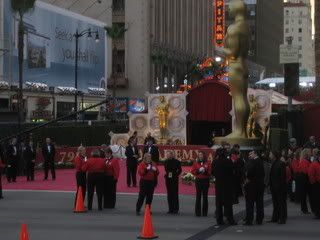 Darn! I would have just loved to make a run for it and ask Brad Pitt if he had ever lied or stolen…
Sixteen members of the evangelism team had one destination in mind on a chilly afternoon last February 25th: the 79th Academy Awards. And one goal: tell all those Oz idolaters about the Savior, pass out tons of Gospel tracts, maybe even do a little open air preaching to the huddled masses in search of their favorite celluloid hero.
God answered all our prayers.
We hopped aboard the Greenline, where for three bucks you can ride anywhere you want, all day. The team sat down and I cautioned them about a few things. "It's a $250.00 fine for anyone caught soliciting on the MetroRail; take your chances if you'd like. A very reliable source told me that it's not soliciting if you walk forward and hand out literature as you go. If you turn around and hand a tract to someone, that is soliciting. It's safer if someone comes up to you and takes it." I stopped my tutorial for a moment and pointed to a man seated in front of me. "For instance, if that man comes over and takes my tract…" I waved it tantalizingly in front of him and asked, "Would you like a million-dollar bill? It's yours if you want it." To everyone's delight, the man got up, walked over, took the bill… and even posed for a picture!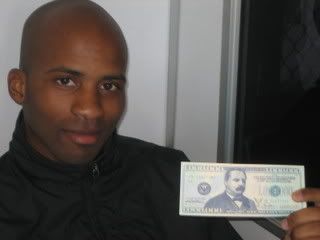 We then did the unthinkable! It was absolutely crazy and if anyone saw us doing it, we would surely be sued and arrested, especially if the ACLU was riding along: We closed our eyes, bowed our heads… and prayed for this trip!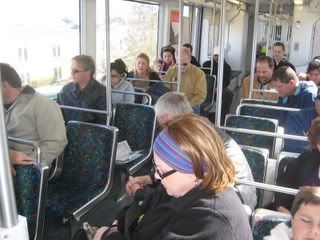 We actually prayed in public, in full view of everybody!!! And the funny thing was, some strangers sitting with us also bowed their heads.
The next stop was a bus trip up the freeway; God picked the perfect bus for us…

…a kneeling bus???
We then caught the Redline and got off at Hollywood and Vine…

…and met a few colorful characters,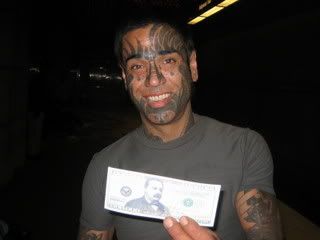 …but the real crazies were just ahead and the real adventure was about to begin just a few blocks down the boulevard…
(To read part 2, click here!)