I WAS OFFENDED! I couldn't believe my eyes. Was this allowed in Johnson City, Texas?
Apparently so. As far as I knew there was no law against it.
I walked up to the counter of HealthMart, our local pharmacy, and there was the most offensive, agitating, insensitive sign I ever saw. Okay, maybe I'm exaggerating a little, but still, I was shocked. I called Phil the manager over to ask him about that, that…sign: "How come it says 'Happy Holidays'? This is Johnson City. We are a Christmas town!"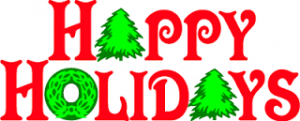 He's a very friendly guy and listened attentively as I voiced my complaint. His assistant Erin explained that they didn't want to offend anybody. "But this is Johnson City!" I sputtered. "Heck, when I drive into Frederiksberg, (a tourist town just 30 minutes west) there's a humongous banner draped across Main Street wishing everyone a 'Merry Christmas!'" Both of them gave me a kindly look with a shrug in it.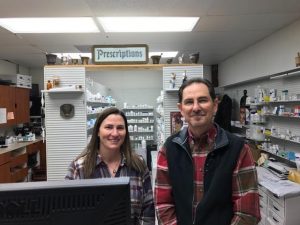 Now, these are wonderful people, so I didn't harp on it too long. It was a friendly exchange, but gosh darn it, this is Christmastime. We ain't in Austin. This is the time where the whole world celebrates the birth of our Lord and Savior Jesus Christ, whether they know it or not. I don't necessarily have a problem with Happy Holidays. I don't consider the phrase to be part of the so-called "War on Christmas;" it's just that in this part of the Texas Hill Country, specifically Johnson City, Christmas is the holiday most people celebrate. Even the very initials of our good city, "J.C." reflects the Savior's awesome Name!
What's offensive to me are the messages that the organization "American Atheists" puts on billboards each December: "You know it's a myth. This season, celebrate reason." Or: "Who needs Christ during Christmas? Nobody." And: "Dear Santa, all I want for Christmas is to skip church. I'm too old for fairy tales."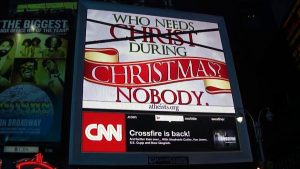 Those are offensive because they're blasphemous. There's only one reason for the season.
This is a new era. For the next four years at least, let's do away with political correctness, be bold, and say those forbidden words: MERRY CHRISTMAS!
I walked away from the counter and thought about the Erin's reason about not wanting to offend anyone. Then I did an about-face and walked back up to the register. "You know, if someone wished me a "Happy Hanukah," I wouldn't be offended because that's their holiday. If someone bade me a "Happy Kwanzaa," though it's a made-up holiday created by a professor from Cal State Long Beach in the 60s, I wouldn't be too agitated. Even if some New-Ager said, "Happy Winter Solstice," I wouldn't mind; these are all their holidays. But Christmas is ours. Christmas IS Johnson City. We are a Christmas town."
Phil and Erin listened patiently. I thanked them for hearing me out and then left the store.
This is the time, Christian, for all of us to proclaim what Christ has done. Go tell it on the mountain, in the Hill Country and ev-ery-wh-ere—that Jesus Christ is born! All can be forgiven of their sins when they trust, not in the Babe in the manger, but in the risen Messiah! Joy to the world! The Lord is come. Let earth receive her King. Let every heart prepare Him room.
A few days later Phil the store manager came to a choir performance at the church I pastor, Community Church of the Hills.. He said hello and took me aside to tell some important news: He changed the store sign to "Merry Christmas."
Hallelujah! Hallelujah! Hallelujah!
Now, if we can just get our local governmemnt building to do the same, that would be a Christmas miracle.
But, as they say, you can't fight City Hall.
Save
Save
Save
Save
Save