There are many reactions to God. Obviously, when I evangelize to unbelievers, the reactions can be very negative; but check these out:
A football player scores a touchdown and thanks God with an end zone gesture. "I do that to give glory to my Heavenly Father, Jesus. He gives me the strength. He's the one who gives me these abilities in the first place." Then he's penalized! Click here to read the rest of the story.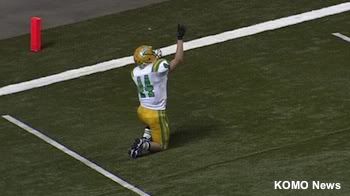 Another football player blames God for his muffed play and tweets this:
I PRAISE YOU 24/7!!!! AND THIS IS HOW YOU DO ME!!!! YOU EXPECT ME TO LEARN FROM THIS!!!! HOW???!!! I'LL NEVER FORGET THIS!!! EVER!!! THX THO… Click here to read the rest of the story.

According to the Star-Telegram, a local Texas businessman had assembled and decorated a 9-foot-tall tree in the lobby of the Chase Bank Southlake Boulevard branch in Tarrant County as a favor to the manager, who is one of his clients.
The branch manager was quickly told by the bank that the tree had to go. She later showed the businessman an e-mail from JPMorgan Chase saying that the tree had to be removed because some people were offended by it.  Read that story here.
Wow! God can truly be controversial.