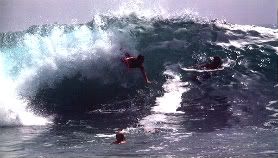 A recent shoulder injury reminded me of the time I first broke this same shoulder twenty years ago at The Wedge, an impossibly steep, cavernous monster wave that doubles in size when bouncing off the jetty in Newport Beach Harbor. This is a world-class bodysurfing/surfing/bodyboard venue, half an hour south of the Huntington Beach Pier, and I was an avid participant—until my cracked shoulder. The unique aspect of this place is that the waves can reach twenty-plus feet, and they crash with the force of a locomotive into shallow water.
The funny thing is, I suffered my injury by bodysurfing a one foot wave that spit me directly onto the sand. I'm now 50 and past those types of shenanigans, with little risk of death by Wedge. 
Another 50-year-old was not so fortunate…
L.A. Times, 7/25/09—The explosive Wedge surf break in Newport Beach has left generations of daredevils with broken bones and concussions.

On Friday, with waves topping 20 feet, it killed a man — a rare death at a place that would seem to invite it.
The Orange County coroner's office has identified the man as 50-year-old Monte Kevin Valantin of Lawndale. He was thrown against the rock jetty that produces the Wedge's outsized waves about 12:30 p.m.

Newport Beach lifeguards pulled him aboard their boat and he later died at nearby Hoag Memorial Hospital, authorities said. Read the rest here.