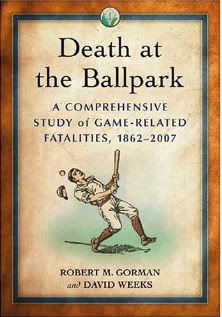 Okay sports fans, here's a review from Slate.com about a book that details all those who died during the Great American Pastime. The book, Death at the Ballpark: A Comprehensive Study of Game-Related Fatalities of Players, Other Personnel and Spectators in Amateur and Professional Baseball, 1862-2007 contains interesting information like this (from the Slate review):
It's weirdly moving, if not exactly consoling, to learn just how many of baseball's casualties made the play before expiring. There's the amateur shortstop who, in 1902, caught a bad hop in the throat and used his last moments to throw out the runner at first. The third baseman in an Indiana league who, in 1909, tagged out the runner plowing headfirst into his gut, then succumbed to the resulting internal injuries three days later. There's just something about baseball that inspires a kind of heroic resolve. John McSherry, the major league umpire who collapsed at Cincinnati's Riverfront Stadium in 1996, had actually postponed treatment for the heart condition that felled him so he could call the game. It was Opening Day.
One more: One July night in a backyard in Houston in 1950, a 7-year-old boy asks if he can throw his dad one more pitch before heading inside. The father says OK. The son pitches. Then the father swings and connects, inadvertently "striking his son over the heart." The son dies before they can make it to the hospital. Read the rest of the review here.
Get the book here.
Click here to see how people reponded to our giving the Gospel at Dodger Stadium!