The proof is in the puddin' photo. Those that needed to see the 180 Movie most (in other words, everyone) got a copy of this stunning and shocking 33 minute documentary. Obviously, some people need to see this movie more than others.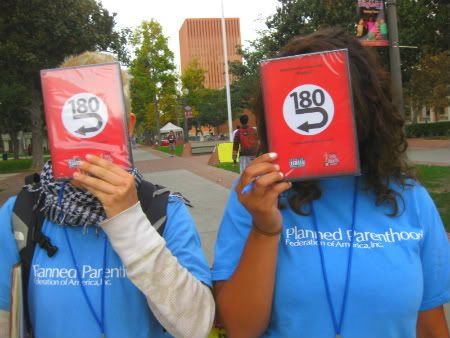 Our team of eight handed out two thousand copies in about two hours with no hassle. To give them away we said:
"Check it out! Over one million viewings on YouTube!"
"Here ya go. Save a woman's life!"
"See the number one cause of death for black Americans."
"This DVD deals with a very important issue for women."
USC Security came by when we had about 100 copies left. Since we didn't have a permit he told us to stop…but gave us an additional five minutes to finish up. We did.
Here's hoping that the more liberal-minded on this campus would rethink their position on whether it is a woman's right to choose to murder her baby. Watch the unbridled enthusiasm of those who received their free copies: