Just in time for Halloween! We will be visiting this comic and horror convention on Saturday. Meet at Hope Chapel at noon to carpool.
Want to see something really scary? Visit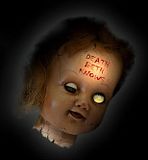 DeathBeth, an incredibly grisly evangelism site.
Also,  click here to check out this very creepy "Cooty Catcher" for the small fry who need to know about Heaven and Hell.

This is great: Puzzles, games, riddles, jokes, mazes and a kid-friendly Gospel message—all on a one sheet that you can hand out with candy on Halloween Harvest night! Print off your very own Harvest Game sheet if goblins and ghosts aren't your thing.
BOO!!!