The motto for our evangelism team is "Go and make—mistakes!" Richard Chavarria made this one on a recent weekend in Huntington Beach. Here's his report from 2007:

I handed a man a Million dollar bill Gospel tract.

"What is it?" he asked.
"It's has the million dollar question on the back," I replied. "If you died today would you go to Heaven or Hell?" As I asked him this question I noticed two things about him: #1—He seemed to have been drinking a lot as his face was flush red and his speech was slurred. # 2—He was wearing a large cross around his neck.
"I'm going to Heaven because I'm wearing purple," he stated confidently.
I lost my gentleness and patience when I noticed that he wasn't wearing any purple. "I haven't read in the Bible that one gets into Heaven by wearing the color purple."
"I'm royalty."
"Are you drunk?" I knew I hit a nerve, so I decided to leave the area, but before I could get half way up the stairs I heard him calling: "Hey you! Hey you!" I stopped, turned around, and there he was in my face.

I immediately sensed that he was angry to the point that if I didn't watch myself, he would take some action likely to cause me great bodily injury.
"Yeah, I'm a little buzzed… and I'm royalty because those in Heaven will wear the color of royalty which is purple."
His girlfriend came along side of us as he was talking. "Apologize to him," she said sternly. I did so immediately, and Mr. Royalty calmed down. He put his hands on my shoulder and I raised mine in anticipation of blocking a punch.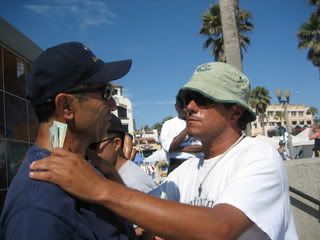 However, he turned away; I did the same.
I hope that next time, Mr Royalty will drink a little more of that living water…