I have two very courteous interviews with American Indians posted to YouTube.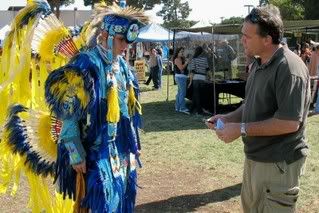 90% of the comments (and there are hundreds of them) are fully against me because they think that I'm insulting the two "elders" with my beliefs. My problem is two-fold:
 I have few Christians coming to my defense.
 I don't have the time to bring a consistent Christian response to these people, therefore most of the comments go unanswered. I just let my interview do the witnessing.
Here's how I need your help: If you have some extra time, will you courteously answer some of the Indians' objections? I moderate the comments at YouTube because some of the responses have been quite nasty, so you will have to wait a little for the answers to post.
Here are the two videos:

Click here to see (and comment to) Pow Wow Ka-Pow!

Click here to see (and comment to) Powwow Ka-pow Ciao! #2
Read the story of our adventure at another Powwow, called "Bluster's Last Stand" here.