We weren't there for the famous hot dogs named after celebrities.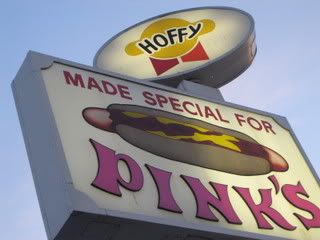 Though I have to admit, The Ozzy Spice Dog, with nacho cheese, American cheese, grilled onions, and chopped tomatoes sounded delicious.
And we weren't there to see celebrities who acted like hotdogs during the former Happy Days of their careers.

We were there for the ridiculous crowds that have snaked around this Hollywood landmark since 1939!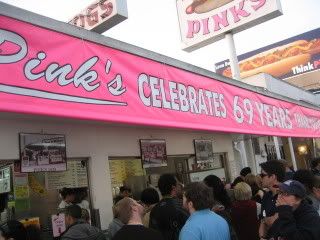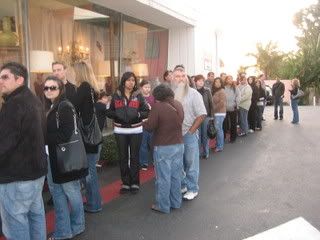 I can almost guarantee that in the 69 years that Pink's World Famous Hot Dogs has been in business, no one ever stood on a little stool to preach to people waiting in line for a Rosie O' Donnel Long Island Dog…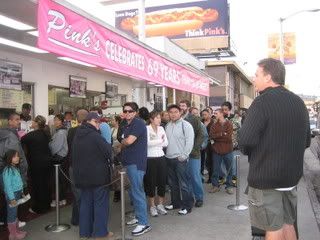 …that just wouldn't be kosher!
But I relished the idea of asking people: If you were to choke on a hot dog today and die, would you go to Heaven or Hell?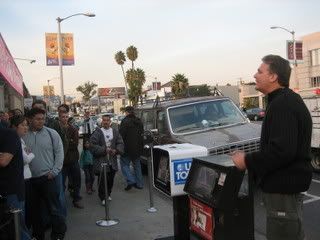 Oh sure, some people may have thought that this venerable institution had gone to the dogs, but I didn't see anyone get too steamed when I warned them about breaking God's 10 Commandments, as I reminded them that lying one time, stealing one thing, lusting only once, or misusing God's name only one time would leave them guilty before a Holy God, and the penalty would be Hell, where they would be broiled and grilled forever.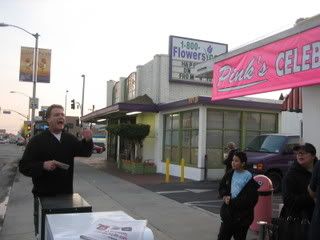 I then told them the good news of Jesus Christ. I pleaded for them to repent and trust in the Savior. As I did this, an Orthodox Jewish man and his sons walked by.
Fortunately, no one threw a Pastrami Reuben Dog at me.
Fellow preacher "Righteous Richard" Chavarria wanted a piece of this evangelistic action, so he had to ketchup with the rest of the crowd at the back of the line…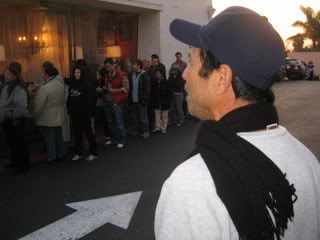 …as the sun set on the home of The Martha Stewart Dog.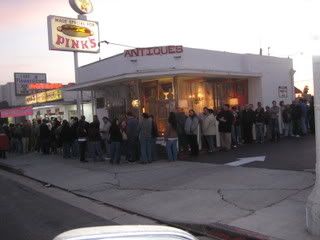 Click here to read the essence of the text we use for open air preaching.
(Photos of former L.A. mayor James Hahn and "The Fonz" are from Pink's website.)