Many people wonder what impact can be made by someone who preaches to strangers in the open air. Others may wear a furrowed brow when hearing about the "crazy" things that evangelists will do to reach the lost. Holy Hubert was a preacher in the late 1960's who went onto various campuses to preach Christ to hippies, radical socialists, Satanists, Hare Krishnas, Buddhists, Muslims and Jews; many found Christ as a result of his life and ministry.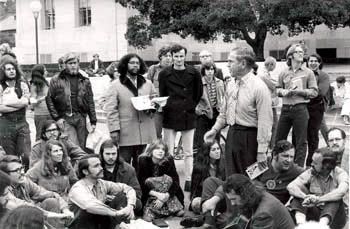 I first posted this article about two years ago and have received numerous comments from some of the people who were converted as a result of "Holy Hubert's" ministry. Please make sure you read those comments after you read this wonderful article about a man who truly had a passion for the lost. The author of this article is unknown so the accuracy of what is said can't be guaranteed. Also, you may not agree with all of Lindsey's theological conclusions; still, as an historical article it's pretty fascinating. "Holy Hubert" died several years ago.
******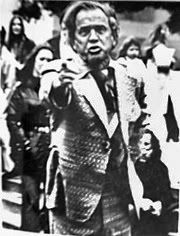 Hubert T. Lindsey is one of the great Holiness preachers of our times.
During sixty years of Ministry he has conducted crusades in over 50 nations, established 12 churches and authored 5 books.
America's best loved and most hated preacher, 74 yr. old (now 83 in nursing home in Raleigh, NC area) Lindsey is perhaps best known as the father of the Jesus movement that swept America in the late '60s.
During this time more than 3 and a half-million hippies, radical socialist, Satanists, Hare Krishnas, Buddhists, Muslims and Jews found Christ as a result of Hubert Lindsey's life and ministry.
Given that nickname "Holy Hubert" by the underground newspapers, Lindsey had been preaching 32 years when God called him to leave his crusade organization and go to America's radical, seething universities and preached Jesus to the students who were enjoying a prelude to hell.
Violent reaction to Holy Hubert's bold evangelism put him in the hospital a dozen times at California's radical Berkeley campus. He was blinded in 1965 during a vicious attack by a mob of protesters. Twice he miraculously regained his sight, but blindness returned 18 years after the attack.
Beatings by the Black Panthers, the Hell's Angels and the Mansion family are only part of the price Hubert Lindsey has paid for preaching the Gospel to this generation.
Born in Georgia in 1914, Lindsey had his first brush with death in 1938 when he was shot in the pulpit while preaching in Kentucky.
Later, in 1946, he was stabbed in a Tennessee church.
In the '50s, Lindsey's life was again threatened by a gang who beheaded his songleader as a warning!
After completing his theological studies, Lindsey was tutored in the Torah and Jewish culture by one of his converts to Christ, Rabbi Ziegler. The professor became Lindsey's associate for 15 years.
As a respected Bible conference speaker and author of numerous books, Hubert Lindsey has brought the message of a living Savior and Christian holiness to men and women of every walk of life. A renowned memory expert, "The Walking Bible" has been quoting the New Testament and two-thirds of the Old Testament for 60 years!
Today he pastors a church in Birmingham, Michigan (no longer) and is president of Hebron Press, and publishing house dedicated to the timeless message of Christian perfection and republishing Holiness classics.
Dr. Lindsey, A.K.A. "RED LINDSEY" A.K.A. "Holy Hubert" was born on May 21, 1914, in Georgia. His family, a prominent family with a Baptist background, later settled in Birmingham, Alabama. This is where it all started for him.
At the age of thirteen years old, Hubert won the most freckled face boy contest in Birmingham. It was from this point that he had his debut in the movie industry. He was rewarded with a contract with Hal Roach studios in California. Hal Roach was the producer of the famous children's show, "The Little Rascals" and later "OUR GANG" comedies. Hubert was one of the original Little Rascals; playing the original cast of the Alfalfas.
The original name for the character Alfalfa was "Freckles". Hubert participated in the silent movie era, then went on to produce two of the sound series. One of these series was duly noted by The Pie Eating Contest of the which, Hubert said that he enjoyed most! (this has not been confirmed to be true as of March 2001…M.S. Metzger)
It was from this point that Hubert's mother, a strict but Godly woman, started interceding for Hubert's soul: that he might come to the Saving knowledge of Jesus Christ.
He tells in His testimony of how, at the age of 15, he came home one day and as his mom was talking to God downstairs, God was talking to him upstairs. He goes on to say that the Lord was showing him how lost he was, his sin, though minimal at 15, had found him out it was at that point that he knew that he needed a savior. He there and then called out for Jesus to save his wretched soul.
Hubert was always an awkward and backwards lad who could never remember a thing. Feeling the Lord's calling to preach on him at 15; He knew that he must retain knowledge in order to remember the Word of God; for the sake of his preaching.
He prayed and asked the Lord to give him a better memory to remedy the situation. The Lord answered him in an unsuspected way. God gave Hubert a memory course. The Lord revealed to Hubert something in which the scientists would find out for themselves later in life and confirm to the world.
The Lord revealed to Hubert to write everything down in three distinct colors: red, green, and blue.
Scientists would later discover that there are four major color cones in the human eye that help to stimulate the memory system of the human brain. Of course God already knew this!
As a result Hubert, wrote down the Holy Scriptures in red, green, and blue; 5 times in each color, and quoted it 5 times for each color. By this he memorized the New Testament of the Holy Scriptures in six months.
Hubert adds that he was so forgetful that his mother would send him to the store for baking powder; he'd quote powder all the way to the store and bring back soda. "Hee hee hee, excuse me I'm gettin' blessed!!!" One of Hubert's great expletives.
Brother Lindsey declared: "In the thirties, I was shot in the pulpit. In the forties, I was knifed by a gang of drunks in a church in Tennessee, In the fifties they cut my song leaders head off and threw it in a ditch; put a note on the pulpit that read; Your Next!"
Hubert was a God fearing man with one important message in each generation that he preached to; "Christ and Him crucified!" He never compromised with sin and sought that all men might know Christ through faithfulness to preach the gospel.
Hubert had many experiences worth noting; and yet the volumes of his life and ministry would be so vast that the world could not contain them.
After receiving his call to preach, his father ran him off from home and said, "We won't have a preacher in this house."
So off Hubert went at the age of fifteen, working in the logging camps of Louisiana; then to the coal mines of Kentucky, where he was to save his money to attend the Southern Baptist Seminary in Louisville, Kentucky. He graduated; received his masters and taught Greek there for a while.
During his early years of ministry he was privileged to build and establish 11 Baptist churches.
He preached also withsome of America's greatest Gypsy Smith Jr., Bob Jones Sr., Mordecai Ham, Dr. Donald Barnehouse, Billy Sunday and many more. One of his greatest opportunities was the privilege of winning to Christ, a leading professor of the Hebrew Theological Seminary; named Rabbi Zeigler.
He accomplished this by debate of the Old Testament scriptures in Genesis 49:10. "The scepter shall not depart Judah, nor a lawgiver between his feet until Shiloh come, and unto to Him shall the gathering of the people be," proving that in all of their captivities to other nations.
The Hebrews were always allowed to practice their laws from Moses, including that of capital punishment, until Rome's oppressive rule. He continued to say that Annas the High Priest of Israel cried out "Behold, the scepter has departed from Judah and Messiah has not come."
It was at that time that Jesus was twelve years of age; and found teaching in the temple. Brother Zeigler. in turn went home and led his wife to Christ. They in turn sold all that they had, and traveled with Brother Hubert for 15 and a half years, tutoring him in Judaism.
The realization was given that the earthly ministry of Jesus was strictly to the nation of Israel. And that His teachings were the purest form of God's Law given to Moses, and since all have sinned and have fallen short of God's Law; Jesus Messiah must become the perfect sacrifice for atonement for not only Israel's sin, but also the sins of the whole world.
Now establishing the NEW COVENANT OF GRACE, not of man's human efforts. But the free gift of salvation and the gift of righteousness; not achieved but freely received through the Eternal work of Messiah dying on the Cross for us to purchase us to become the Sons of God to all those who believe and trust on His name that they might receive the gift of eternal life.
This did not take place until the time of Jesus' Crucifixion, so up until this time Jesus only taught the Law and not Grace, to the Jew and not to the church.
This revelation shed new light on Dr. Lindsey concerning the earthly ministry of Christ, to the Nation of Israel; compared to His heavenly ministry to His Body, THE CHURCH.
In the 1960's Brother Lindsey was called of God to dissolve his staff of over seventy-two men, and to lead one of the greatest spiritual awakenings of the 20th century, "The Jesus Movement" Brother Hubert was sent of the Lord to the most riotous campus on the North American Continent,"BERKELEY."
Hubert went to Berkeley not known, no backing of the religious community, not financed by a Christian group: just called of God. For three and a half years Hubert stood eight solid hours out of each day preaching the gospel of Jesus Christ to the socialist, communist, Buddhist, Hindist, Marxist, Blasphemist, Atheist, anarchist,ugliest group of radicals you've ever seen. And just about any other "ist" for that matter.
Preaching as an apostle or the prophets of old Brother Lindsey faced the mob crowds every day ready to give an answer to every man of the hope that lay within him.
Standing face to face with people like Jerry Rueben, Eldrige Cleaver, Hell's Angels, Black Panthers, the S.D.S., the Manson family, hippies, prostitutes, and the like; preaching Jesus to one and all.
In '65 no one stood with Hubert when he first arrived at Berkeley. He was beat up over 150 times in the first year for preaching Jesus outdoors on the campus.
One Black Panther stood over Hubert beating him with blood running out of his eyes, blood running out of his nose with a broken nose, blood running out of his mouth with a broken jaw.
One man stood by and cried out,"stop man you're killing him, you're killing him." The man beating him said in reply, "I'm going to kill the Blankety blank!" Hubert spoke through that broken jaw before he passed out and said, "I'll Love you till the end!"
Next week another black man went to hit Brother Lindsey, and that same Black Panther wheeled the first man around and said, "Hey man you see me? Do you see the color of my skin? I'm a soul brother like you, but if you lay one hand on preacher Hubert, you're gonna lose your teeth, and I'm gonna be the one to do it." That Black Panther later got gloriously saved under Hubert's ministry.
Hubert, "Holy Hubert" as the hippies called him, was notorious for running into a demonstration of thousands and taking away their microphone system, and preaching to the radicals.
Things like, "Do you want a Revolution? I said do you want a revolution? I can't hear you radicals do you want a revolution?", by this time he would have all the hippies and socialist listening and would go on to say, "…You don't need a revolution on the outside, NO!!!, You need one on the inside, and the greatest revolution you will ever have is when Jesus Christ, Son of the Living God comes into your hearts."
The Dr. Billy Graham once asked Brother Lindsey, "Dr. Lindsey, what is the greatest demonstration that you have ever broken up?"
Dr. Lindsey replied, " 35,000″
Billy Graham said "One Man!?"
Hubert replied, "Jesus was with me Dr. Graham!"
Billy Graham said, "May I quote you on that?"
Hubert said, "You may."
There's are many entries devoted to the ministry of Holy Hubert at a blog compiled by Rick Roehm. Click here to get to it.
(Steve's note: Again, I can't verify all that is said in this story until I read his biography, but it certainly is safe to assume that "Holy Hubert" had a powerful ministry. Let that encourage you to be bold. I retrieved this article from this website.