What has this post to do with evangelism? Read on. (Start at Part 1 of this series here.)

Last week I had the opportunity to attend the "Shepherds' Conference," an inspiring, equipping event hosted by Grace Community Church, which had over 3,000 pastors and leaders in attendance. It was refreshing and exhilarating to hear the Word of God preached accurately, God exalted highly, and His Son, Jesus, worshiped rightly: It was like being at a three day banquet where Fillet Mignon was served at every meal. The expository preaching properly exegeted was to be expected, but I was most impressed with the level of service  I witnessed.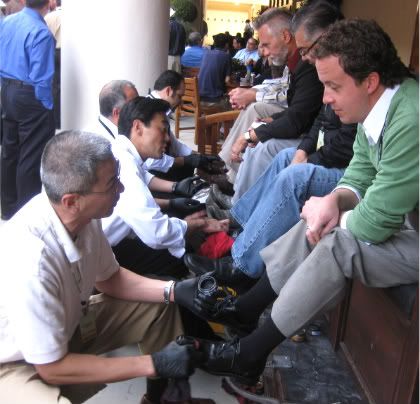 This was just a simple shoe shine stand manned by volunteers from the church; and it was free to all the men who attended the conference and had  shoes. The "Shiner" at the front of this image certainly modeled humble service in action: He's a Superior Court Judge.
I'm reminded yet again that as preachers of God's Word we are ambassadors of Christ, as though God were making his appeal through us. Therefore, we need to have the same attitude as Christ:
Who, being in very nature God,
did not consider equality with God something to be grasped,
but made himself nothing,
taking the very nature of a servant,
being made in human likeness.
And being found in appearance as a man,
he humbled himself
and became obedient to death—
even death on a cross!
(Philippians 2)
Evangelists can sometimes be the most stubborn and hard-headed of people, when we ought to be gracious, humble servants. We can insist on our rights when, at times, it's best to lay them down. We can ignore and diminish the opposition as blind, stupid fools instead of treating them as people made in the image of God.
We can be wrong even when we preach right.
It's always a matter of attitude.
As I've been musing on my role as an evangelist in this series on "Evangelism Gone Wrong," and offering varying degrees of criticism toward questionable methods, I'm mindful of the fact that as I point my finger, three are pointing back at me.
Extra Notes from the Conference
On humility: "It's God's job to make something out of nothing."
"Humility is the first thing; humility is the second thing; humility is the third thing." —Augustine
And extras:
"Preach the uniqueness of Christ."
Do you believe in the universal lostness of the world? If not, then you are a Universalist, not an evangelist.
Preach by power of example. Be the example, not the exception.
Do I see people as souls with bodies, or bodies with souls?
We always hear of the Acts 2:42 church; but are we an Acts 5:42 church as well?
CLICK HERE FOR PART 10
OF THE "EVANGELISM GONE WRONG" SERIES
Free haircuts were offered, too!