The coolest thing about the film "Fireproof," which opened at #4 last week, topping the Coen Brothers' film, "Burn After Reading" in its third week, and Spike Lee's newest propanganda movie, is that it honors God, glorifies marriage between one man and one woman, and gives a clear Gospel presentation, according to those who have seen the film. (I plan to see it this weekend.)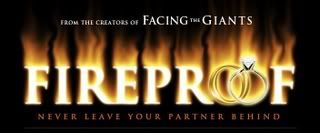 Here's a great anecdote from a four page report at ABCnews online:
 Cameron's wife also played a small but significant role in the film. Originally, the script called for only long loving looks and warm embraces between Cameron and his on-screen wife, played by Erin Bethea. That's because Sherwood Pictures has a policy that only actors and actresses married to each other can kiss on screen. It's the same policy Cameron has.

"I promised my wife that my lips are reserved for her only," said Cameron, who's been married to Chelsea for 17 years. They have six children.

"If that means I don't get a movie or TV gig, that's fine. I don't want to do anything to violate our marriage. Maybe there wouldn't be so many divorces in Hollywood if actors had a more sacred view of marriage."

Still, Cameron said the film cried out for a kiss. So Stephen Kendrick had Chelsea fly in to be a double for Bethea and they shot the kiss in silhouette.