Mark your calendars.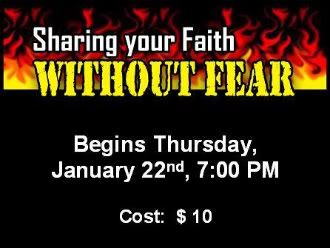 If you've always wanted to be a bold witness for Christ…
If you've always thought that evangelizing was only for those who had "The Gift"…
If you want to learn the "The Secret" of the lost key that is guaranteed to unlock the heart of the most hardened sinner…
If you want to get away from the boring, humdrum life of the average Christian…
THEN THIS CLASS IS FOR YOU!!!
Now into our fourth year, I will be teaching the first evangelism class of 2009, "Sharing Your Faith Without Fear."
When: Thursday, January 22- February 26, from 7pm to 9pm.
Where: Hope Chapel
2420 Pacific Coast Hwy
Hermosa Beach, Ca.
310-374-4673
Cost: $10.00. Includes

The Way of the Master

book,

Hell's Best Kept Secret

CD and

True and False Conversions

CD, plus all materials and all Gospel tracts.
If you live in the area—or out of it—please consider attending.
Please watch this video to whet your appetite: