Excited by the possibility of thousands, maybe even millions of people standing in line waiting to get tickets to the Michael Jackson documentary, "This Is It," set to open up at all fourteen theatres in the entertainment complex known as L.A. Live! in downtown L.A., three evangelists and myself jumped in the church van and hurried to the excitment. (Read Part 1 by clicking here.)
The first sign of trouble appeared when we drove up to the parking lot: It was nearly empty—and the parking was free!
The second sign of trouble was when we actually looked at the ticket line…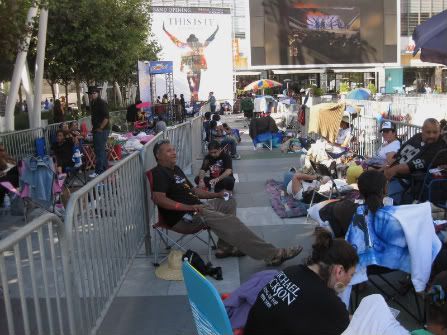 …and saw about 50 eager fans lounging on their lawn chairs and makeshift cots.
The third sign that this was a bad move was when my three Gospel compatriots got escorted off the premises by Security for handing out Gospel tracts to that massive crowd of fifty.
The fourth sign of trouble was that I didn't get escorted off the premises. And everyone knows that never happens!
That Was That!
See my interview with a fanboy waiting two days to get a ticket by clicking Part 3 here.
***Read what happened when we attended the Michael Jackson Memorial service by clicking here!***