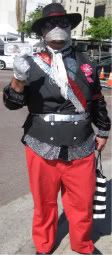 This is the second interview with another Michael Jackson wannabe, taken from the STAPLES Center at the Michael Jackson Memorial.
You just never know about some people….
The man was friendly, kind, and sounded like a Christian. But I detected that something was a little off in his beliefs. I decided to take him through the 10 Commandments, then, POW!
Watch what happened.
(See the first interview with another Michael Jackson wannabe by clicking here.)