A security friend of mine warned that the LAPD were expecting white supremacists to be there. Also, about thirty people from a Kansas hate church. In addition, an expected 1 million fans were going to clog the streets of Los Angeles, hoping to catch a glimpse of, well, something from the Memorial service for the man who had the largest selling record ever, held at the STAPLES Center.
None of it came to pass. Instead of a million people, there were a few thousand. No supremacists, but lots off-shirt salesmen. No Kansas hate church… but best of all… no sign guys!!!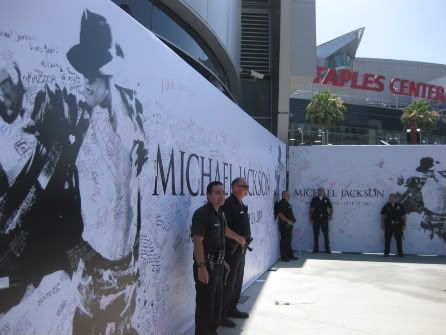 There were actually more cops than people! And they didn't like "Righteous Richard's" preaching (or mine for that matter).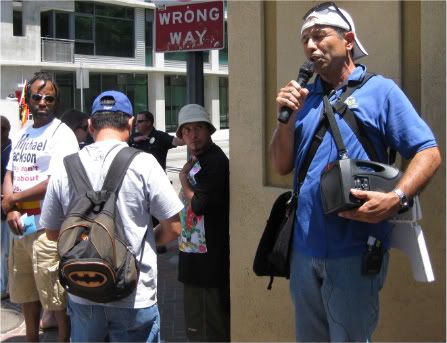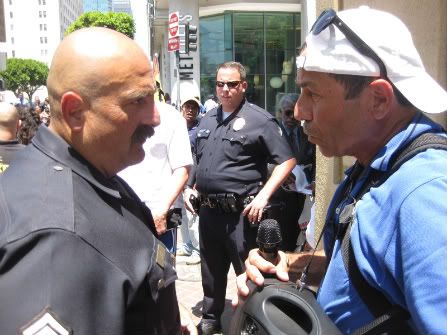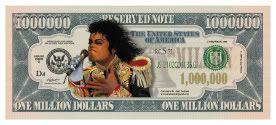 We handed out nearly all our commemorative "Memorial" Gospel tracts, and man, people were pleased to get them. Over and over again, fans would run back to us asking for more! "May I have one for my kid?" "May I have one for my uncle?""Can I have one for my Uncle's kid?" We were more than willing to oblige. No one suspected that these "commemoratives" contained a message: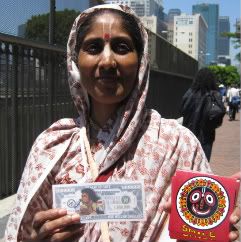 The million-dollar question: Will you go to Heaven when you die? Here's a quick test: Have you ever told a lie, stolen anything, or used God's name in vain? Jesus said, "Whoever looks at a woman to lust for her has already committed adultery with her in his heart." Have you looked with lust? Will you be guilty on Judgment Day? If you have done those things, God sees you as a lying, thieving, blasphemous, adulterer at heart. The Bible warns that if you are guilty you will end up in Hell.
God, who the Bible says is "rich in mercy," sent His Son to suffer and die on the cross for guilty sinners. We broke God's Law, but Jesus paid our fine. That means He can legally dismiss our case. He can commute our death sentence: "For God so loved the world that He gave His only son, that whoever believes in Him should not perish but have everlasting life."
Then He rose from the dead and defeated death. Please, repent (turn from sin) today and God will grant everlasting life to all, who trust in Jesus, then read your Bible daily and obey it.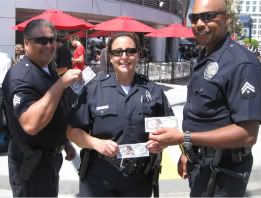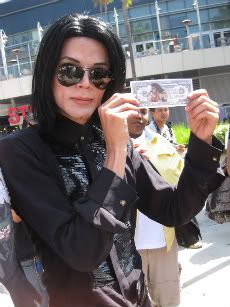 We also got an interview with the man himself (sort of)! He actually ran away from my interview and disappeared into the crowd!
And I got another video interview with a different kind of wannabe (below). This guy was sweet and gentle and nice, until I took him through the 10 Commandments; then things turned very ugly.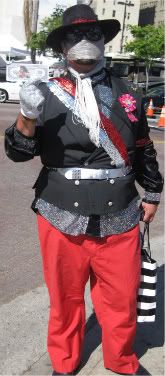 But I'm not going to write about it, I'm going to talk about it.
Thursday night, July 9, on Ambassadors' Alliance Radio I'm going to tell the whole story of what went on.
The show starts at 6:00PM PST; my segment is at 6:30PM.
If you miss it, just click here for the archived show!
***Now watch my interview with "The Gloved One" himself.***